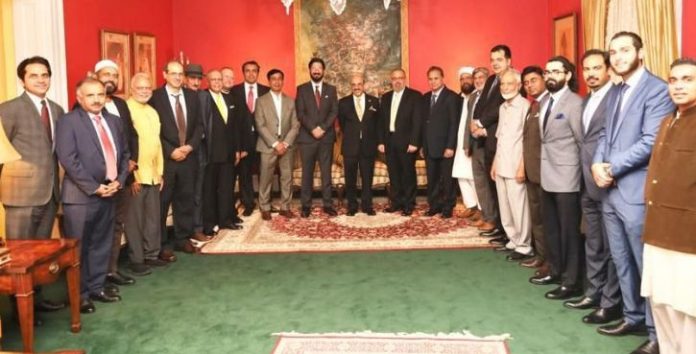 DNA
Islamabad: August 10, 2023 "The Government of Pakistan is committed to promote interfaith and inter sectarian harmony and respect for the rights of minorities," said Pakistan's Ambassador to the United States, says a press release received here today from Washington DC.
"Sufism has a great history in Pakistan and it has always worked to connect communities and integrate them as one humanity," said the Ambassador. "The land of Pakistan has been a cradle of multiple civilizations for centuries. Respect for cultural and religious diversity is part of its national psyche and mores. We will continue to nurture that time-honored tradition," he said.
Masood Khan said that "it is our collective responsibility to combat intolerance, xenophobia, fanaticism and religious hatred worldwide. Pakistan and United States can work together to deepen understanding about these issues and promote understanding among civilizations," he said.
Ambassador Masood Khan made these remarks during a gathering of faith leaders of the United States at the Pakistan House. Sahibzada Sultan Ahmad Ali, Chairman of Muslim Institute, was the chief guest on the occasion. The reception was attended by religious leaders representing various faiths and denominations and leading members of Pak-American community. Rev. Canon Justin Murff, Executive Director of the Anglican Office for Government & International Affairs, Muhammad Usman Noori, Al-Mustafa Trust, Yahya Hendi, Director Muslim Life and Chaplaincy at Georgetown University, Dr. Maqsood Chaudhry, Imam Naeem Baig, Outreach & Interfaith Director Dar Al-Hijra Islamic Centre and other religious leaders were present on the occaison. Thanking the Ambassador for the warm welcome, Sahibzada Sultan Ahmad Ali said that sufi saints in subcontinent had played a vital role in transformation of society. He said that during thousand years of the Muslim rule, there had never been any religious conflict among Muslims, Sikhs, and Buddhists, Christians and Zoroastrian and others. He also said that sufism had played a great role in protecting the society from the scourge of terrorism.
 "Two major fatwas was issues against suicide attacks and terrorism by the scholars with sufi background," he said. Talking about scientific and technological advancement of modren age, he said that technology, artificial intelligence and other tools could effectively be employed to promote mutual interactions and encouraging dialogue among various faiths. Rev. Canon Justin Murff, Executive Director of the Anglican office for Government & International Affairs representing Archbishop Azad Marshall of the Diocese of Raiwind, President Bishop of Church of Pakistan, thanked the Government of Pakistan for its commitment towards religious freedom and interfaith harmony. "As Christians, we strive to be the salt of the earth. But salt has to have its flavor.
The right amount is always preferable," he continued. "In Pakistan, we are aware of our role and opportunity to be a good neighbor and to be a good friend," said Rev. Canon Justin Murff. Mr. Daniel Spiro, speaking on the occasion, said that the most important thing was to inspire the people, enabling them to recognize the beauty of the religion instead of associating it with fundamentalism and intolerance "Maybe the most difficult is not interfaith conversations but intra-faith dialogue, he opined.
Mr. Waseem Naqvi, representing Shia community, appreciated the services of Sahibzada Sultan Ahmad Ali for the stability of Pakistan, unity of the Ummah and promoting interfaith harmony in Pakistan and across the world. Dr. Sayyid Syeed, former President of Islamic Society of North American invited Sahibzada Sultan Ahmad to their 60th annual convention in Chicago. He said that "our strength in this country has been our interfaith dialogue." Recalling unfortunate incident of burning of Holy Quran and the solidarity shown by leaders of all faith, Dr. Syeed said that the unity against fanaticism had become a powerful expression of America.
"They did not stop there. They decided to have an organization. They created shoulder to shoulder with American Muslims." The organization, he said, was a unique product of American religious landscape. Expressing deep concerns over the plight of minorities and the rising tide of religious intolerance the in India, he said that everything that had been achieved during last 70 years in India was being destroyed. Yahya Hendi, Director Muslim Life and Chaplaincy, underscored the need not only to tolerate but also to celebrate the differences. He also highlighted the importance of "agree to disagree without being disagreeable" and celebrating commonalities. Muhammad Usman Noori, Al-Mustafa Trust, highlighted the charter of human rights given by Holy Prophet (P.B.U.H) and said that sufi saints have been instrumental in spreading the message of Islam through their deeds. "The world", he said, "has always been in search of peace. Today it is needed more than ever."
The speakers expressed the hope that the visit of Sahibzada Sultan Ahmad Ali would help uniting the community Ambassador Masood Khan thanked Sahibzada Sultan Ahmad Ali and other religious leaders for reiterating their strong commitment towards promoting interfaith harmony among the followers of different faiths. Recognizing the services of Sahibzada Sultan Ahmad Ali, Ambassador Masood Khan said that he was a catalyst for promotion of better ties between followers of different faiths.