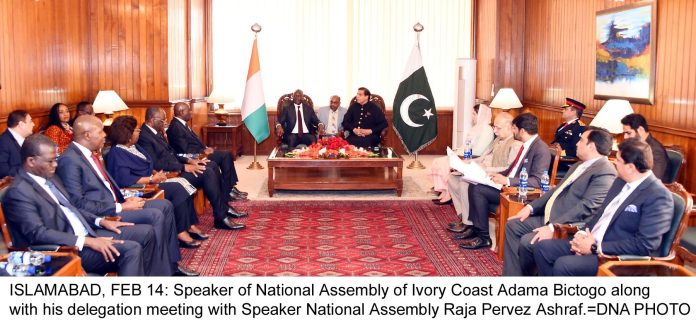 ISLAMABAD, FEB 14 (DNA) — The Speaker of the National Assembly of Pakistan, Raja Pervez Ashraf, has stated that Pakistan views Côte d'Ivoire as a significant ally on the African continent and will make every effort to further solidify friendly ties between the two nations.
He made these comments during a meeting with the Cote d'Ivoire parliamentary delegation led by Mr. Bictago Adama, Speaker of the Ivory Coast's National Assembly, which is in Pakistan on its maiden visit.
The Speaker emphasized that parliamentary diplomacy plays a key role in fostering relations between the nations, and both Pakistan and Cote d'Ivoire needs to effectively utilize this conduit to improve collaboration. He suggested creating a parliamentary friendship group and signing the Memorandum of Understanding as these measures would help to formally engage with each other on a regular basis.
The Ivorian Speaker approved of the recommendations and expressed his appreciation. He also conveyed gratitude to Raja Pervez Ashraf and noted that Pakistan and Côte d'Ivoire have a close friendship, which would be further strengthened by this visit. Both sides also agreed to enhance cooperation in the fields of agriculture, trade, and investment as well as the promotion of people-to-people contacts.
The visitors had a full day at the Parliament in addition to their meeting with the Speaker of the National Assembly. Speaker H.E. Mr. Adama Bictogo signed an agreement to promote inter-parliamentary collaboration, planted a sapling, and the delegation took a tour of the building while learning about the history and procedures of the institution. — DNA