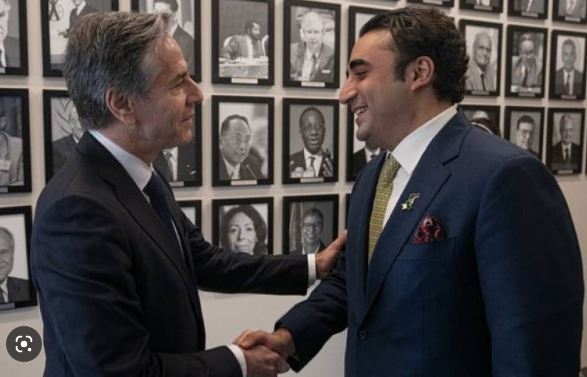 ISLAMAABAD, DEC 21 (DNA) — Foreign Minister Bilawal Bhutto Zardari says Pakistan and the United States will continue to work together for regional peace and stability.  In a telephonic conversation with his US counterpart Antony J Blinken, Bilawal affirmed that both countries will also keep up cooperation to further enhance and diversify their bilateral ties.
He expressed his gratitude for the United States for its assistance of $97 million for the flood affected people in Pakistan. He also expressed his resolve that two countries would continue to extend mutual cooperation for rebuilding climate-resilient infrastructure in Pakistan.
Both sides expressed the hope for a productive international conference for a climate resilience Pakistan being held in Geneva next month and stressed the need for close coordination for this purpose. US Secretary Blinken also offered condolences for the loss of lives in recent terrorist attack in Pakistan and underscored the resolute support of Washington against terrorism.
"Spoke with Secretary Blinken conveyed gratitude of GoP for USG's flood assist. of $97 m. Will continue coop. for rebuilding resilient infrastructure in Pakistan & to further enhance & diversify bilateral relations & to work together for regional peace & stability," Foreign Minister Bilawal wrote on Twitter.
Secretary Blinken also took to Twitter about his discussion with Bilawal to "express our continued support for the people of Pakistan as they recover from devastating floods." "I hope for a productive climate conference next month and give my condolences for the lives lost in recent terrorist attacks," he said on Twitter.
Earlier, US State Department spokesperson Ned Price has said that US Secretary of State Antony Blinken discussed recent floods in Pakistan and climate change issues with his Pakistani counterpart Bilawal Bhutto Zardari.
The secretary expressed his continued support for the people of Pakistan as they recover from the recent devastating floods. Secretary Blinken and Foreign Minister Bhutto Zardari shared their mutual hope for a productive International Conference on Climate Resilient Pakistan in January and discussed the need for close coordination. The secretary offered condolences for lives lost in recent terrorist attacks and underscored the United States' resolute support for Pakistan as it combats terrorism, the spokesperson added.
Separately, Administrator US Agency for International Development Samantha Power called on Foreign Minister Bilawal Bhutto Zardari in Washington DC and discussed response to Pakistan's recent floods. She reinforced USAID's commitment to providing life-saving assistance to flood affected communities.
The foreign minister thanked Administrator Samanatha Power for early and significant humanitarian response which was critical for saving lives.
Meanwhile, the foreign minister also held a meeting with Senator Lindsey Graham, Senator Bob Menendez, Senator Jeanne Shaheen and Tim Kaine and appreciated the US support to Pakistan to relief, rehabilitation and reconstruction of flood-hit areas.
Foreign Minister Bilawal said that Congress is playing an important role supporting post-flood recovery, rehabilitation and reconstruction in a green and resilient manner.
Speaking at a discussion organized by the Atlantic Council's South Asia Centre in Washington, Foreign Minister Bilawal Bhutto Zardari has said that Pakistan's economic interests are linked with America. He said said that Pakistan wants to expand bilateral relations with the United States as both have managed to achieve great things when they worked together.
In his tweet, Bilawal said: "We know what great, great things we've managed to achieve together when Pakistan and the United States have worked together."
FM Bilawal said during last 6 or 7 months, there has been lot of engagement between Pakistan and US on various levels. He said apart from counter-terrorism talks that were rampant in 1990s, now there are host of exchanges on other diversified issues like climate change, technical talks, healthcare and agriculture.
While speaking on calamitous floods in Pakistan this summer, the foreign minister said tackling future environmental disasters and helping victims is a challenge. He said that all our focus is on dealing with the tragedy caused by the flood, I am sure that we will deal with the challenge caused by the flood. He said that the floods have affected the education, agriculture and health sectors.
He pointed out that besides the Covid epidemic, the Afghanistan situation and Ukraine war have also affected the world. He told the audience that Pakistan is making arrangements for food security.
In response to a question, Bilawal said that the security situation in Pakistan is better than in 2007. He said Pakistan is dealing strictly to tackle extremism in the country, especially the proscribed Tehreek-e-Taliban Pakistan (TTP).
Condemning the Bannu incident in which some incarcerated militants took hostage the officials of CTD detention centre after overpowering the jail staff, Bilawal said such incidents are perturbing. He expressed his resolve that for the protection and security of people, an action against extremists is vital.
Bilawal Bhutto has said that relations between Pakistan and United States are being reshaped with an emphasis on creating economic opportunities for both countries. In an interview with MSNBC, he said with consistent engagement at high level and bilateral exchanges, the relations between Pakistan and the United States are moving ahead positively.
The Foreign Minister said we can build a sustainable long-term partnership which is in the interest of people of both countries. Regarding climate change and recent floods in Pakistan, he said we have started to prepare National Adaptation Plan for building resilience to climate change.
The Foreign Minister said to become a climate resilient country; we need to invest in energy transition which requires international support. Counting on the losses caused by recent floods that have washed away ten percent of Pakistan's GDP, he stressed that adaptation is needed in a manner that if we face such catastrophe in future, we should be in better position to cope with it.
Foreign Minister Bilawal Bhutto Zardari has voiced disappointment over the Taliban's ban on university education for women but said the best approach remained engagement with Afghanistan's Islamist rulers. "I'm disappointed by the decision that was taken by Kabul," Foreign Minister Bilawal Bhutto Zardari said on a visit to Washington.
But he said: "I still think the easiest path to our goal — despite having a lot of setbacks when it comes to women's education and other things — is through Kabul and through the interim government." Bilawal Bhutto Zardari said there were no alternatives to the Taliban, warning of further instability in Afghanistan or the rise of the Islamic State group.
"Is the alternative for us to imagine that we can somehow artificially stitch together an alternate opposition that can command the same sort of legitimacy?" The Taliban, who had initially promised a softer approach than during their 1996-2001 regime, on Tuesday banned university education for women after already closing down secondary schooling for girls.
The United States, whose troop withdrawal from Afghanistan last year precipitated the collapse of the Western-backed government, warned that the Taliban decision could permanently end any hopes by the militants for a positive relationship.
But Bilawal Bhutto said it was even more crucial to ensure economic support "to create the political space necessary for those within the Afghan regime who actually believe that they should deliver" on rights issues.
Pakistan has a complicated relationship with the Taliban, officially backing the two-decade US war in Afghanistan but facing wide accusations in Washington of supporting the militants. = DNA