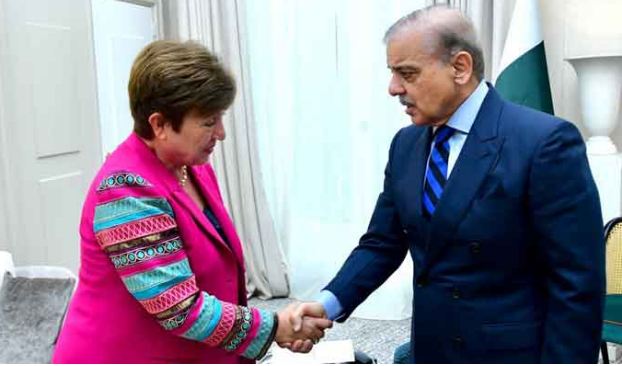 ISLAMABAD, JUN 24: There has been a likely breakthrough in Pakistan's long-drawn-out parleys with the International Monetary Fund (IMF) for the tightly-negotiated 9th review and an official announcement regarding the signing of the deal is expected soon, sources told Geo News Saturday.
The development comes after a flurry of meetings between the two sides following Prime Minister Shehbaz Sharif's huddle with the IMF Managing Director, Kristalina Georgieva, in Paris earlier this week.
The meeting on the sidelines of the Global Financing Summit in Paris came with about a week left before the IMF's Extended Fund Facility (EFF) agreed in 2019 expires on June 30.
Under the $6.5 billion EFF's 9th review, concluded earlier this year, Pakistan has been trying to secure $1.1 billion of funding stalled since November.
The sources said that obstacles in the conclusion of the ongoing review have been removed after multiple sessions were held between the two sides during the last three days.
"Discussions and preparation for a new draft continued till today and the two sides have reached a consensus," the sources said.
Finance Minister Ishaq Dar and his team held several rounds of talks with the lender to address their concerns on the budget 2023-2024.
The sources claim that the review would be completed as soon as possible.
"The two sides have finalised the new draft."
With central bank foreign exchange reserves barely enough to cover one month of controlled imports, Pakistan is facing an acute balance of payment crisis, which analysts say could spiral into a debt default if the IMF money doesn't come through.
The IMF funding is critical to unlock other bilateral and multilateral financing.
Islamabad has expressed its frustration over the delay. It argues it has met all the painful fiscal measures the lender requested.
The IMF, however, still has concerns over Pakistan's external financing gap, foreign exchange market operations and the budget presented earlier this month which it said violated the programme's objective.
Pakistan had defended the budget but at the same time offered to review it in any further talks with the IMF.