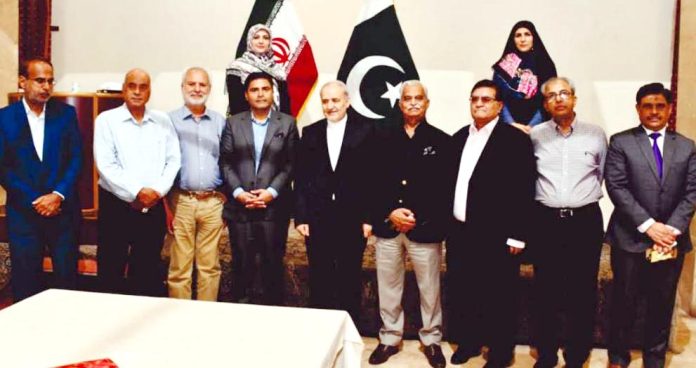 Iranian Ambassador to Pakistan Reza Amiri Moghadam says with the improvement in Iran-Saudi relations, a new era of peace, development and prosperity is beginning in the region. Pakistan and Iran need to take advantage of these opportunities together
Mahnoor Ansar
ISLAMABAD (DNA) The delegation of Islamabad Chamber of Commerce and Industry under the leadership of President Ahsan Zafar Bakhtawari met with the Iranian Ambassador to Pakistan Reza Amiri Moghadam.In the meeting held at the Iranian Embassy, issues of mutual interest were discussed.Improvement of trade relations between the two countries, barter trade, energy projects and other issues were also discussed.
Speaking on this occasion, Iranian Ambassador Reza Amiri Moghadam said that the new changes taking place in the region are a great opportunity for Pakistan and Iran.With the improvement in Iran-Saudi relations, a new era of peace, development and prosperity is beginning in the region.Pakistan and Iran need to take advantage of these opportunities together.He said that he came to Pakistan specially on the instructions of Iranian Supreme Leader syed ayatollah khameneii. Improvement of trade relations between the two countries is his priority. Trade between Pakistan, Iran, Afghanistan and Russia in local currencies will benefit all regional countries.He said that the current trade volume between Iran and Pakistan can be increased through the exchange of rice, meat, sports goods, surgical instruments, fruits, dry fruits, agricultural implements, energy and other commodities.
He said that direct flights should be started between islamabad and Tehran so that the large population of the two countries consisting of more than 30 crore people can benefit from the opportunities in each other's countries.There is a need to innovate the road and rail system between Iran and Pakistan to reduce the cost of transporting goods.He said that Pakistan-Iran gas pipeline is in the interest of both countries. This project should be completed soon for peace and rapid development in the region. He said that Pakistan and Iran are part of organizations like D8, ECO and Shanghai Cooperation Organization,Both the countries should play a role to activate these regional organizations. The total population of Pakistan, Iran and Turkey is around 40 crores, all the projects of development and prosperity of the three countries should be completed with speed in which railway and road should be priority.
Speaking on this occasion, President Islamabad Chamber of Commerce and Industry Ahsan Zafar Bakhtawari said that Pakistan and Iran have not only shere border, but both countries are connected by mutual historical and cultural ties.Both the countries have actively supported each other in every difficult time. The warmth of existing relations needs to be used to promote trade and business.The development and prosperity of Pakistan and Iran are interlinked. Direct air connectivity, rail and road systems should be improved on a priority basis.
In this regard, the two governments should form a joint plan of action. He said that it is necessary to exchange the trade delegations of the two countries on a regula basis.He said that approval of barter trade project with other countries of the region including Pakistan, Iran is a historic opportunity.This will not only benefit Pakistan and Iran but the entire region will benefit.
Speaking on the occasion, Group Leader Founder Group Khalid Iqbal Malik said that despite being neighboring countries, Pakistan and Iran could not benefit from each other's capabilities.Now is the time for Pakistan and Iran to increase their dependence on each other and take steps to promote mutual trade. Secretary General United Business Group Zafar Bakhtavari said that the peace of Pakistan and Iran is connected to each other.Insecurity can be controlled by promoting business activities in Balochistan and Iranian border areas. Maqsood Tabish, Ijaz Sheikh, Chaudhry Javed Iqbal were also present in the meeting.