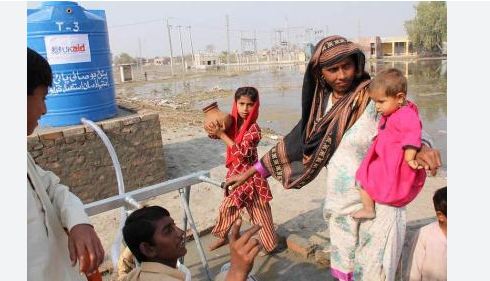 ISLAMABAD, Jan 04 (DNA): Experts at a multi-stakeholder consultative workshop here on Wednesday said that Pakistan needed to establish an effective network of all segments of the society from scientists to policymakers to civil society with a focus on mainstreaming youth and gender to address growing water security prevailing across the country.
The workshop "Transformative Futures for Water Security (TFWS), setting priorities for water research, knowledge, and innovation" was organized by the International Water Management Institute (IWMI) in partnership with the Pakistan Council of Research in Water Resources (PCRWR), Federal Flood Commission, Ministry of Water Resources, Federal Water Management Cell, Ministry of National Food Security and Research.
Over 60 representatives from the federal and provincial governments, donors, civil society, academia, and public and private sector organizations participated in the workshop. IWMI had developed the TFWS Initiative with the foundation of a bottom-up approach rooted in South-South dialogue, and youth to co-guardianship among others.
In his welcome note, Dr Mohsin Hafeez, Country Representative Pakistan and Regional Representative of Central Asia, IWMI, briefed the participants regarding the objectives of the consultation. According to him, "Pakistan has the lowest water security in terms of urban, economic, environmental, and other factors linked to the subject. There is a need to take bold steps for addressing water scarcity prevailing across the country. We need to build joint commitments to science-based action on water security across policy, development, business, and science constituencies for greater water security."
Dr. Mark Smith, Director General, IWMI through his video message, introduced the Transformative Futures for Water Security (TFWS) Initiative led by IWMI, its rationale and the need for ensuring water security in the region
According to Dr. Smith, "The latest IPCC report's message on climate change and water are obvious, that climate change is intensifying hydrological water cycle which means an increase in water risks and extreme floods and droughts. Behind our initiative is an underlying question of who to lead this bold step towards water security. The answer to it is that the youth, policymakers, business, communities, farmers, conservation organizations, and sectors beyond water will lead this action."
Dr. Muhammad Ashraf, Chairman PCRWR said, "Pakistan will face a 30 percent water shortfall by 2030 whereas at present over 60 percent population in the country is drinking unclean water. We are facing groundwater depletion in Islamabad at one meter/annum, as groundwater is helping meet our requirements by 60 percent in agriculture, 90 percent for drinking purposes and by 100 percent for the industry. The situation needs to be immediately addressed."
Simi Kamal, Board Member, IWMI, said that water security needed to be looked at from the perspective of how water is used, as up to 90 percent of our water resources are used in agriculture.
She said that the youth were technology savvy, entrepreneurial, understanding of the audience, eager to study and learn new things and work hard to change the world. She further said, "Group action for water is political and is needed not based on elite groups' interest but on the survival of climate change affected communities."
The consultation was followed by the formation of five working groups to discuss multifaceted issues on water security that provided key indicators and suggestions to address the issue with a systematic approach guided by ground realities and scientific evidence to deal with the climate shocks.