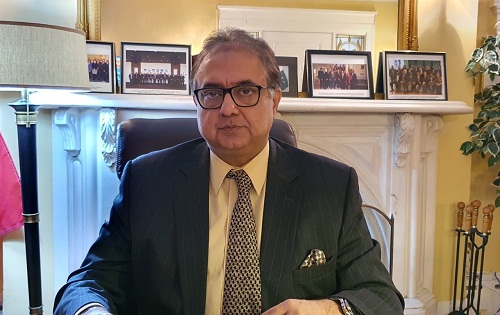 OTTAWA/DNA

Pakistan High Commissioner in Canada Raza Bashir Tarar has said that Pakistan is the only country which has the distinction of prevailing against terrorism, especially urban guerrilla warfare, and it knows the value of peace and is committed to promoting it at all levels.
"Pakistan is a responsible international player as it has already served seven times in the UN Security Council and contributed practically to the flagship activities of the UN for global and regional peace," he said while attending an interview with Canadian radio Connect 91.5 FM today.

Speaking about Pakistan's efforts for promotion of peace in South Asia, Raza Bashir Tarar said that incidents such as Pulwama and the subsequent capture and release of Indian pilot by Pakistan as well as the construction of Kartarpur Corridor on the one hand and inhuman treatment of Kashmiris and other minorities, including its farmers in recent days, by the Indian state on the other, were apparent to the outside world which could clearly see the Indian hypocrisy in glossing over and sidelining the Kashmir issue behind the veil of democracy and economic diplomacy.

He said the core issue between Pakistan and India was Kashmir and the South Asian diaspora in Canada, particularly the Indian community and the local Canadians could play an important role in promoting peace in South Asia by impressing upon the Indian government that its efforts to pursue a primitive ideology of Hindu supremacy were bound to fail in today's world which firmly sees peace and tranquillity as the only way forward to further human progress and development in any society and region.

Talking about the low number of Pakistani students getting enrolled in the Canadian colleges and universities despite Pakistan's inclusion in the Student Direct Stream, Raza Bashir Tarar said that it was unjust to suggest that there was any systemic bias against Pakistani students as the statistics shared by the Canadian authorities with Pakistan in recent days had shown a significant increase in the grant of study permits to Pakistani students despite the fact that grant of visa was a sovereign right of any country.

He said that after the inclusion of Pakistan in the Student Direct Stream launched by Canada to fast-track visa processing for international students, Pakistan had become the third largest source country in South Asia for the Canadian colleges and universities. He advised the Pakistani students desirous of placement in the Canadian educational institutions to carefully fill out their admission and visa forms, fulfil all requirement and provide requisite details and information as desired by the Canadian authorities to ensure success of their visa processing.