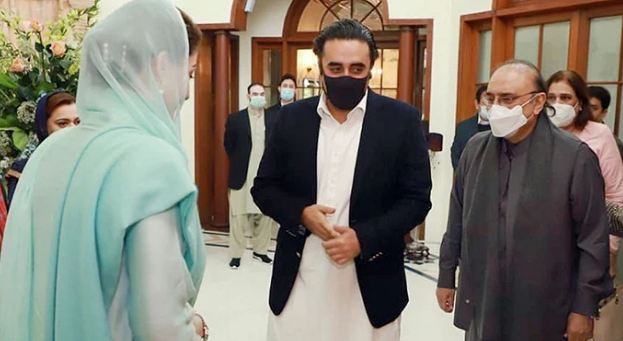 DUBAI: Pakistan Peoples Party's (PPP) top leaders, Asif Ali Zardari and Bilawal Bhutto-Zardari, Monday met Pakistan Muslim League-Nawaz's (PML-N) Chief Organiser Maryam Nawaz in Dubai as Pakistani bigwigs are in the Gulf nation for mulling over "important" political matters.
During the meeting, economy and politics came under discussion, with the PML-N's top leader taking Zardari and Bilawal into confidence over the ongoing situation, sources told Geo News.
The sources further said that leaders of the PML-N and PPP — two major partners in Pakistan's ruling coalition — would hold a meeting tonight to discuss further issues.
The meeting in the oil-rich nation holds importance as there are reports of PML-N supremo Nawaz Sharif's return and speculations around rifts between the PPP and the PML-N.
Nawaz's return is expected after the National Assembly Sunday passed a law to limit the lifetime disqualification of parliamentarians to a maximum of five years.
Nawaz, who the Supreme Court disqualified under Article 62(1)(f) of the Constitution for being "dishonest", can also contest in the upcoming elections as he was found guilty in 2017.
PML-N sources had a day earlier told Geo News that Nawaz held several important meetings in Dubai where the road map for his return was discussed in detail — including Pakistan's economic and political future.
The PML-N sources said that the former premier will be returning to Pakistan in the near future.
The sources have revealed that one meeting held on Sunday afternoon had the longest discussion, but the attendees have not been disclosed as of now.
In particular, discussions focused on resolving legal entanglements that could be preventing Nawaz's return, with the expectation expressed that a solution would be found soon.