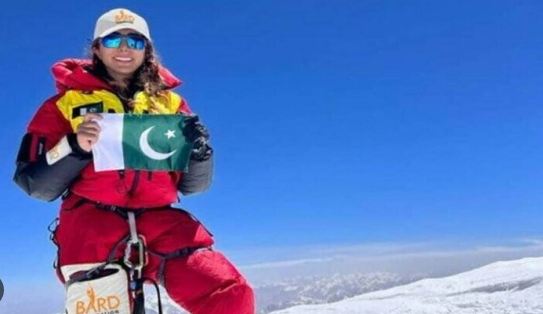 LAHORE, MAY 14 (DNA) — Naila Kiani, a courageous Pakistani mountaineer and mother of two, has etched her name in the chronicles of history by successfully summiting Mount Everest this week. Her remarkable achievement makes her the second woman from Pakistan to complete this extraordinary expedition.
Naila's determination and unwavering spirit drove her to conquer the world's highest peak located in the Mahalangur Himal sub-range of the Himalayas, becoming the first woman climber to reach the summit in 2023.
On this momentous morning, Naila reached the summit point at 8:02 am, marking a significant milestone in her mountaineering journey. Twitter erupted with congratulations and accolades for Naila, recognising her historic feat as the first Pakistani woman to complete five peaks above 8,000 meters.
Naila's official Facebook page shared a post celebrating her achievement, proclaiming her as the "1st International Climber to summit Everest in 2023." The post expressed admiration for her dedication, strength and perseverance, hailing her as the leading Pakistani woman mountaineer in the 8,000m+ category. It acknowledged Naila's accomplishment as a testament to the indomitable human spirit, expressing pride and prayers for her safe descent. The post also expressed gratitude to sponsors whose financial support made this extraordinary journey possible.
Prior to her triumphant Everest ascent, Naila had already conquered Annapurna I, the tenth highest peak in the world, setting a new record. This Dubai-based banker is not only an avid mountaineer but also a trained boxer, rock climber and an enthusiast of recreational running. In interviews, Naila has expressed her desire to portray a positive image of Pakistan through her adventurous pursuits.
Her passion for adventure previously led her to summit Gasherbrum-II, the world's 13th-highest mountain, in 2021, followed by an ascent of K2, the world's second-tallest mountain, in the preceding year. Naila Kiani's incredible accomplishments serve as an inspiration to all and showcase the indomitable spirit of Pakistani mountaineering on the world stage. — DNA