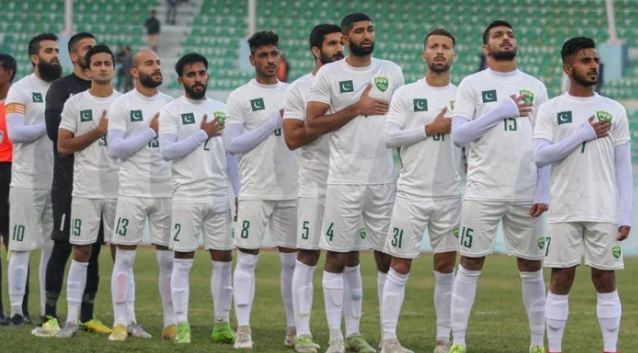 LAHORE: Pakistan football team's participation in the South Asian Football Federation (SAFF) Cup has become doubtful as the Green Shirts have not yet received their visas to tour India, which is hosting the biennial event, reported on Sunday.
The SAFF tournament is scheduled to take place from June 21 to July 4 in Bengaluru, and Pakistan were due to fly for India today (Sunday) at 11:30am but sources said they were told by the Indian authorities to reschedule their departure on Monday.
Currently, the Pakistan football team is in Mauritius and it was expected that it would get India's visas by Saturday but no development took place till the filing of this report.
This has put the Pakistani team in a difficult situation. Sources said that India's High Commission in Mauritius has not yet got clearance from its Home Ministry regarding issuing visas to the Pakistan team.
A team official has also contacted Pakistan High Commission in India to extend its help in visa matters.
The sources said that there are fears that some players may get visas and some may not as they will have to make individual clearance, which according to sources is a long process.
They said if Pakistan's reservation for India's tour is rescheduled then it will inflict Rs13 million damage on the country.
The sources said that the next few hours are very important and if visas are not issued then Pakistan will have no option but to return home.
They said that Saturday was the last day of the four-nation event in Mauritius and Pakistan also will have to bear its boarding and lodging expenses if the team stays till Monday or Tuesday.
Moreover, the issue had also put Pakistani players in persistent tension and they could not focus on their third game which the team lost against Djibouti 3-1 on Sunday.
FIFA-appointed Normalisation Committee chairman Haroon Malik had been contacted several times but he did not receive the calls of this correspondent.