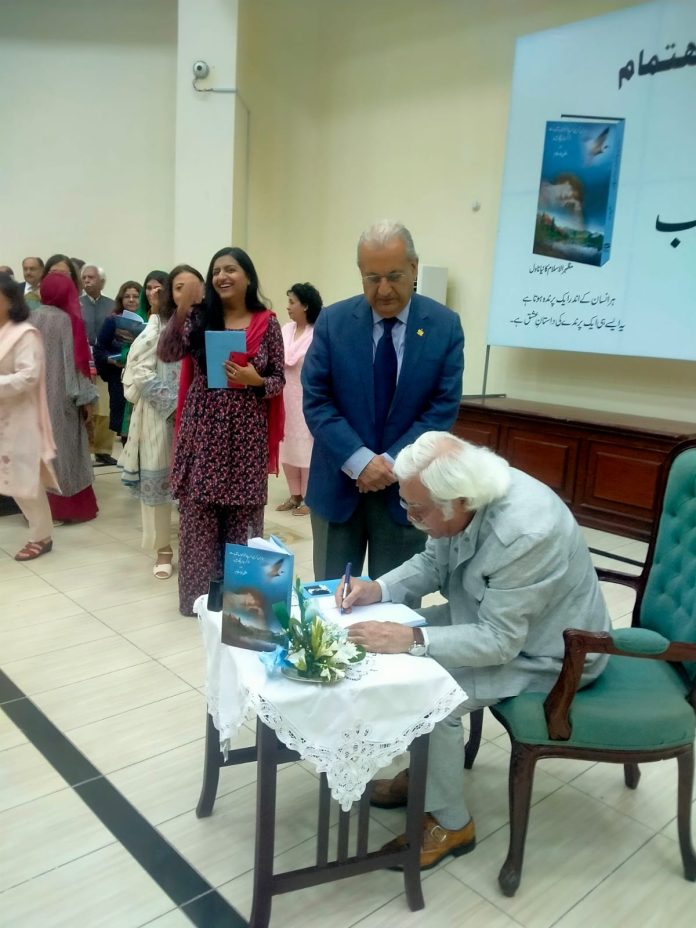 Staff Reporter
The newly published novel "Sarus Crane Apnay Khwabon mein se Urh kar ja Chukay Hain" the first time-travel novel of Urdu by eminent story writer Mazharul Islam, reminds us of the days when people endeared human values and rich traditions such as book-reading, letter-writing, painting, giving alms, sharing each other's pains and pleasures. Life at that time was in short, beautiful.
These views were expressed during the signing ceremony of the novel organized by the the Perveen Shakir Trust (PST) in collaboration with the Pakistan Academy of Letters (PAL) at the Faiz Ahmed Faiz Auditorium of the PAL.
The protagonist of the novel, a sarus crane, in order to meet his lady love, flies backward from the 21st century to the 18th. He comes across different ages travels through ancient cities. During the course of flight he learns how 'rich' the people of the past used to be as they upheld human values.
Former Chairman, Senate of Pakistan, Sen Raza Rabbani, Federal Secretary for National Heritage & Cultural Division Fareena Mazhar, Chairperson of the PST Parveen Qadir Agha and former Principal Secretary to the PM, Nargis Sethi were among the noted guests who got their copies of the 'Sarus Crane' novel signed by the author. Chairman of the PAL, Muzaffar Ali Burki was also present to receive the honourable guests.
While paying rich tributes to Mazharul Islam's 'unique' novel, Fareena Mazhar said Mazharul Islam's fame is spread and his works are translated in many languages of the world. His first novel, "Mohabbat Murda Pholon ki Symphony" (Love: Symphony of Dead Flowers) has already won him laurels from across the world, she said. His books of shorts stories and work on Punjab's folklore have also won him acclaim at the national and international level, she said.
Excerpts from different chapters of the 169-page book were also read out on the occasion. After listening to them, the audience termed the novel a 'romantic' wakeup call and an elegy in memory of the old days. The panel of readers that read excerpts from the book included Director of the PAL and award-winning fiction writer, Muhammad Asim Butt, story writer Shoaib Khaliq, Jaweria Tameem, Bushra Taimoor and Ayesha Farooq.