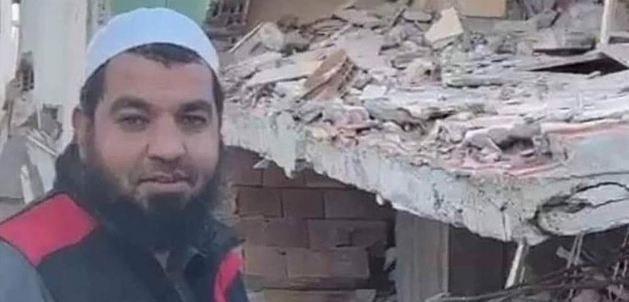 Sameh Aktash, a Palestinian who recently helped victims of Feb. 6 quakes in Türkiye, faced his fate on returning to his country — getting killed by Israeli gunfire in the occupied West Bank.
Aktash, 37, whose family says he "loved life and helped others in his hometown and in Türkiye, which he adored," was shot in the abdomen.
On Sunday, Aktash was killed and dozens of others injured in attacks carried out by settlers under the protection of the Israeli army in the village of Zatara, south of Nablus, according to the Palestinian Health Ministry.
Settlers carried out riotous acts in the villages of Hawara, Beita, Asira al-Qibliya, Burin, and Zatara, after two Israelis were killed in a shooting attack on their car near Hawara.
CHARITY WORK
Sameh's older brother, Wasel Aktash, 52, said his younger brother "was loving life and merciful to people. He was a preacher and loved Türkiye very much."
Wasel told Anadolu that "Sameh went out for 40 days as preacher to Türkiye, and he, like his family, has strong relations with friends and merchants in southern Türkiye."
Sameh visited Türkiye several times with his family, and when the earthquake occurred, he decided to go and provide assistance to the affected people, and in coordination with their brother Yasser, who lives in the city of Bursa in northwestern Türkiye, Sameh and his family provided aid to earthquake victims.
"Sameh distributed about two trucks of foodstuff, blankets, and bedding in the Turkish areas hit by the earthquake," his brother said.
"What we have offered to the brothers in Türkiye is little, and it is something that is not to be mentioned, and they have a great place in our hearts," Wasel said.
Sameh conveyed sad stories to his family about the extent of the destruction and the suffering of those affected in Türkiye. On his return to the village, he began working with Beita Municipality to purchase equipment, cranes, and thermal sensors for use in the event of an earthquake in Palestine.
OBSTRUCTED AID
Regarding his brother's death, Wasel said: "Sameh stood in front of the houses of the small village to defend his home and his family from an attack by hundreds of heavily armed settlers, protected by the Israeli army. He was martyred with his heart full of love, attachment to the homeland, and helping others."
Early on Monday, the Aktash family buried the body of their son in their little village, which has a population of about 150 people, and their origin goes back to the town of Beita, which is located near the Zatara military checkpoint.
Immediately after Sameh's injury, Yazan Aktash, 23, a volunteer paramedic at the Palestinian Medical Relief Society, provided first aid to him, and told Anadolu that "the settlers' attack was accompanied by heavy use of live bullets."
Yazan noted that the Israeli authorities "knew of Sameh's injury, but refused to allow the medical staff to transport him across the public road, so we had to take dirt roads and from one vehicle to another, so his arrival at the health center was delayed for about 25 minutes."
"The cause of death was the delay in arriving at the health center and not allowing him to be transferred to the hospital. We made efforts to transfer him to the Rafidia Governmental Hospital in Nablus, but to no avail."
Sameh's departure left great sadness in the hearts of his three daughters, two sons along with his family, relatives, and the people of his town, and his loss to them was like losing a symbol of goodness and helping people.
HARD NIGHT
For his part, Ghassan Daghlas, a Palestinian official who monitors settlement activities in the northern West Bank, told Anadolu: "What happened (Sunday) is a real organized war waged by settler gangs, in an organized manner and with the protection of the Israeli army."
"The town had a difficult night, which was described as a real war," Daghlas said.
"About 300 attacks were carried out by settlers in towns south of Nablus, between physical assault and burning of homes, vehicles, real estate, and others," he said.
Israeli and Palestinian estimates indicate there are about 650,000 settlers living in 164 settlements and 116 outposts in the West Bank, including in the occupied East Jerusalem.
Under international law, all Jewish settlements in occupied territories are considered illegal.