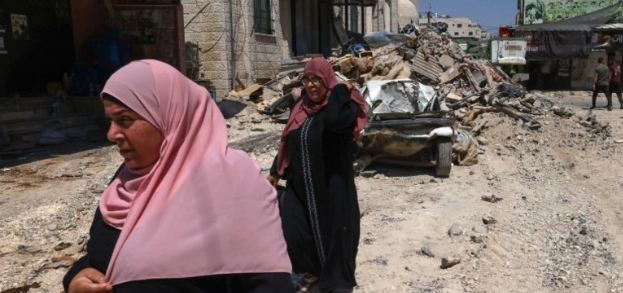 Palestinian residents emerged from their homes in the West Bank city of Jenin on Wednesday to find piles of rubble following an Israeli military raid.
"They destroyed everything," Umm Mohamed, a resident of the Jenin refugee camp, told Anadolu.
"Israeli soldiers raided the city at night and forced us out of our homes," she said. "But when we came back in the morning, we could not recognize our houses."
The Israeli army withdrew from Jenin early Wednesday, concluding its largest military operation in the city in more than 20 years.
At least 12 Palestinians were killed and more than 140 injured in the offensive, according to the Health Ministry. Five of the fatalities were minors.
The Israeli raid, which started on Monday, has also left a massive trail of destruction across the West Bank city, with dozens of homes, vehicles, shops and utility lines destroyed.
DESTROYED HOMES
There are around 1,000 residential units inhabited by 15,000 Palestinians in the Jenin refugee camp.
"The Jenin refugee camp was destroyed as if an earthquake had struck the area," Umm Akram, a resident of the camp, told Anadolu.
The Palestinian mother said she had to flee the area following the Israeli military raid.
"Everything is in ruins," she added.
The defiant woman, however, said that "despite the destruction, we will maintain our resolve."
Jenin was the target of a deadly Israeli offensive in April 2002.
At least 58 Palestinians were killed, mostly civilians, and 300 houses destroyed during the onslaught, according to Palestinian figures.
"The scene in the camp is a reminder of 2002 when the camp suffered massive destruction in the Israeli offensive," Umm Akram said.
COLLECTIVE PUNISHMENT
Jamil Talib, a local resident in Jenin, said his house was turned into a barracks by Israeli forces.
"My car was crushed by Israeli bulldozers and my house was seized and turned into a barracks by Israeli soldiers," the 42-year-old said.
He said Palestinian homes in the camp were raided by Israeli forces one by one.
"Israeli snipers used my house as a military post," he recalled.
Aliye al-Bali, 55, showed Anadolu reporters the destruction inflicted on her house during the Israeli military raid.
"Israeli soldiers even stole my gold jewelry," she said.
Said, a Palestinian resident who gave only his first name, said civilians, not gunmen, were the target of the Israeli raid.
"They targeted the camp's infrastructure to impose collective punishment of the residents," he said.
"The Israeli army failed to achieve their military targets," he said. "They did the same in 2002, but life continued in Jenin."
The Israeli onslaught triggered a wave of condemnations from several countries, including Türkiye, Jordan, Egypt, Indonesia, Pakistan and others.