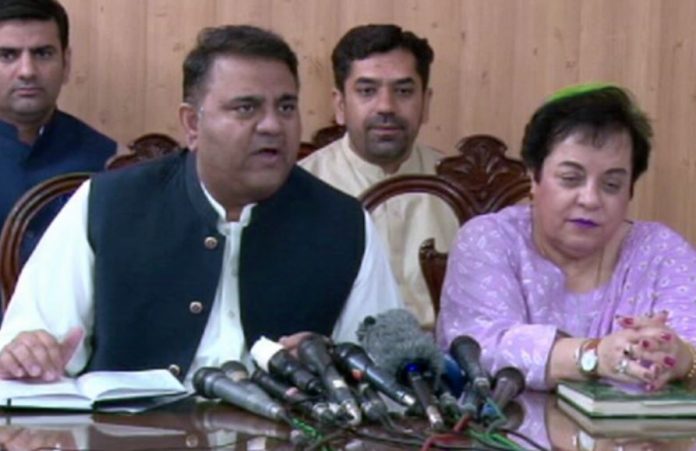 Warns won't remain silent if Imran Khan's phone call audios leaked
Imported govt resisting IMF on anti-corruption laws but not on taxing masses: Fawad
ISLAMABAD: Pakistan Tehreek-e-Insaf (PTI) Senior Vice President Dr. Shireen Mazari came down hard on the imported government for baseless propaganda being hatched against PTI Chairman Imran Khan's wife and warned that if Imran Khan's phone calls with Azam Khan were leaked, they would not sit quietly.
Addressing a press conference along with PTI Senior Vice President Fawad Chaudhry here on Monday, she said that if such audio was leaked, it would be a violation of the official secrets act as the conversation between a prime minister and his principal secretary was protected under the law.
She said that the process of phone tapping falls under the category of contempt of court but even then the security line of Imran Khan's house was also tapped, as Ansar Abbasi hinted that telephone audio of Imran Khan and Azam Khan, the then his principal secretary, would be leaked.
Dr. Mazari raised question that the Supreme Court put an end to phone tapping in the Benazir Bhutto case but even than the illegal practice of phone tapping was being carried out.
She said that this was being done solely to conceal the conspiracy, demanding the apex court to take a suo motu notice on the matter.
Shireen Mazari said that phone tapping was illegal and only intelligence agencies can do it because they had the means and the technical ability to do so.
She said that if these cabal of crooks would talk about patriotism nobody would buy their narrative, adding that one wonders how much the US help in tapping the phones.
Dr. Mazari made it clear that the whole drama of audios leak was hatched because the handlers of the conspiracy scared of the party's massive power shows because neutrals and the government failed to find evidence of corruption against Imran Khan.
Speaking on the occasion, Fawad Chaudhry said that the biggest problem in the country at present was load shedding, as even there would be no light on Eid-ul-Adha because the government did not have the money to buy imported fuel.
Fawad said that Hamad Azhar demanded the government to name 20 closed power plants, but to date no list has been shown.
Fawad said that problems was escalating to an alarming extent but they has no plan to end power outages.
He went on to say that despite admitting all the conditions of IMF for taxing the people, the imported government was yet to receive the much-touted IMF package because the financial body renewed its condition and called for a review of anti-corruption laws. The government did not resist to burden the people, but has been resisting the IMF for a review of anti-corruption laws, he added. Fawad stated that the imported government gave itself NRO-2 to benefit the big corrupt families.
Lashing out at Defence Minister Khawaja Asif, Fawad asked Asif whether he had gone deaf when Imran was giving his policy statement in front of a gathering of tens of thousands of people, as what Imran was saying.
He said that the PTI supported good and equality bases relations with all countries but not country could be allowed to change government in Pakistan.
He deplored the new trend of constant phone tapping and releasing audios, urging the authorities to register a case against Bushra Bibi so that she could respond to the allegations.
"If a case has not been registered, then how can a warrant be issued?" he added. Fawad highlighted that Economic Affairs Minister Sardar Ayaz Sadiq received two plots the Farah Gogi way.
Talking about pre-polls rigging in Punjab, he revealed that there was information pertaining to voter lists being tampered with, besides harassing PTI's workers.
Fawad stated that the election under which Hamza Shahbaz became the Chief Minister was declared null and void, so how can he remain the Chief Minister? He said that police and district administration were being used indiscriminately in the by-elections.