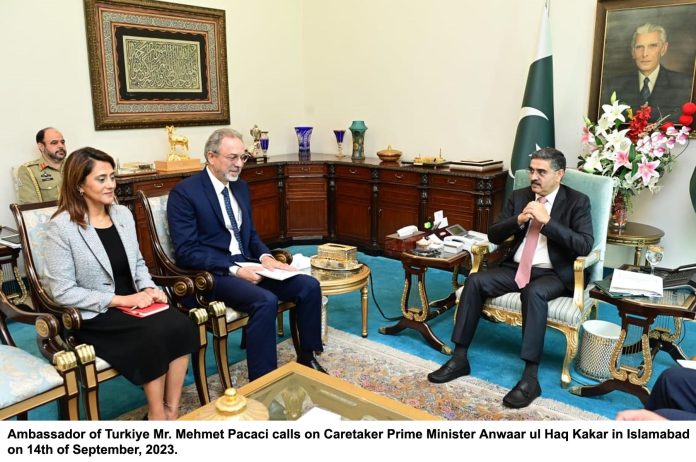 ISLAMABAD, Caretaker Prime Minister Anwaar-ul-Haq Kakar on Thursday stressed the need to enhance bilateral cooperation with Turkiye in multiple sectors, including trade, agriculture, energy, mining, IT and defence.
Talking to Ambassador of Turkiye in Pakistan Mehmet Pacaci, the prime minister said Pakistan was keen to attract foreign investors and the Special Investment Facilitation Council (SIFC) had been established to generate new and attractive investment opportunities in priority sectors.
He said in addition to having strong and time-tested bilateral relations, Pakistan and Turkiye shared convergence and close cooperation on a wide range of regional and multilateral issues, including efforts to combat Islamophobia.
He appreciated Turkiye's reconstruction efforts following the tragic earthquake of February 2023 and reiterated Pakistan's readiness to continue extending all possible support to the Turkish people.
The prime minister thanked President Recep Tayyip Erdogan and the Turkish leadership for their warm messages of felicitations on his assumption of office.
He said the people of Pakistan enjoyed a historic, cultural and fraternal relationship with Turkiye. President Erdogan enjoyed the same popularity in Pakistan as in his own country.
PM Kakar also praised Turkiye for its long-standing and steadfast support to Pakistan on the Jammu and Kashmir issue.