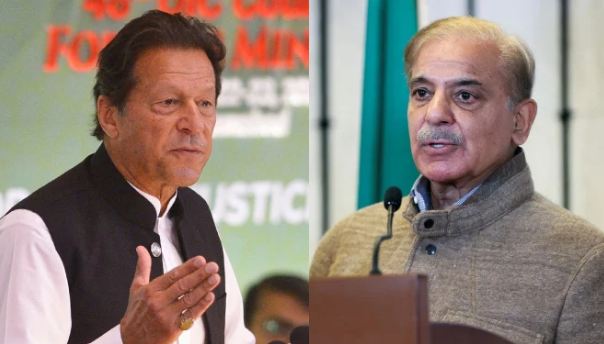 ISLAMABAD: Prime Minister Shehbaz Sharif Saturday blamed Pakistan Tehreek-e-Insaf (PTI) Chairman Imran Khan for "derailing his own IMF [International Monetary Fund] programme".
The PTI-led administration signed a $6.5 billion loan agreement with the Washington-based lender but went back on several promises that it made to secure the funding — a big one being the massive fuel subsidy Khan gave when his government was near its ouster.
The coalition government has repeatedly censured the party's "deliberate" attempts for throwing the IMF programme off route through their manoeuvres — including PTI leader Shaukat Tarin allegedly directing the former finance ministers of Khyber Pakhtunkhwa (KP) and Punjab not to follow up on the IMF deal last year in a leaked audio recording of their conversation.
The persistent political turmoil has also sent jitters across the markets as the PTI has been on the streets since it was removed from the government in April last year.
Moreover, it also dissolved KP and Punjab assemblies to turn up the heat on the government for early polls, which wrecked the crippled economy even further.
With an uphill task on the economic front, the government is desperately trying to convince the lender of the last resort for releasing a more than $1 billion loan tranche to avert a default.
In light of the challenges, the prime minister said the PTI chief's agenda includes spreading anarchy and chaos on the streets of the country — which will ultimately lead to "instability".
"He does not want the poor people to get relief from inflation and economic pressures," the prime minister said, berating Khan for creating hindrances in Pakistan's road to stability.
The economy's deterioration has also led to the rupee's historic devaluation and the foreign exchange reserves have fallen to just above $4 billion — enough for around a month's imports.
'Running away from courts'
The prime minister then berated Khan for "running away" from the courts and said that he isn't presenting himself before the judges as he is well aware that he is a "criminal".
The PM termed Khan's running away from courts as the "height of cowardice" and said: "First, he ran away from the IMF programme and now he is running away from the courts."
The ex-premier is embroiled in legal battles — from lower courts to the Supreme Court — ranging from prohibited funding, sedition, and terror charges — and in all, he denies any wrongdoing.
The PTI chief, who remained in power for nearly four years, claimed recently that 76 cases have been registered against him, however, The News' investigation showed that he faces less than 40.
PM Shehbaz added that during PTI's tenure, Pakistan Muslim League-Nawaz (PML-N) supremo Nawaz Sharif faced one of the "worst revenge" of the NAB-Niazi nexus.