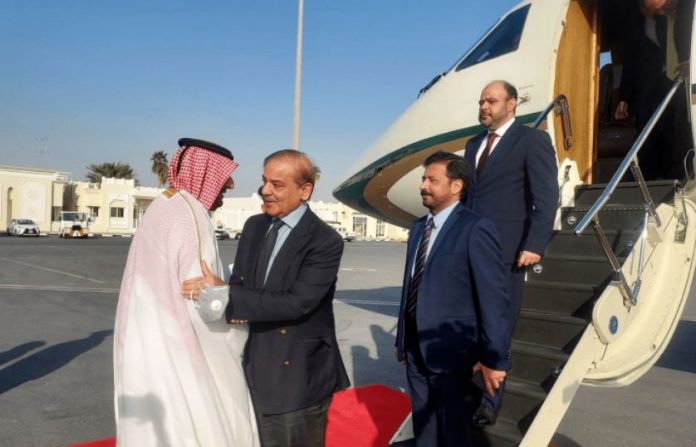 DOHA, MAR 5: Prime Minister Shehbaz Sharif on Sunday morning reached Qatar's capital Doha on a two-day visit to attend the 5th United Nations Conference on Least Developed Countries (LDCs) where he will "share Pakistan's perspective on the socio-economic challenges facing LDCs in Asia and Africa".
Upon his arrival in Doha, he tweeted: "Just reached Doha, Qatar on the invitation of my brother HH Sheikh Tamim Bin Hamad Al-Thani, the Emir of Qatar to attend the 5th UN conference on LDCs."
The premier further said LDCs have been "badly affected by climate change, post-pandemic and geo-strategic disruption in food and energy supply chains", adding that the global events had left the said countries vulnerable.
"LDCs will be better served by putting welfare at the centre of public policy," Shehbaz asserted.
The PM's Office (PMO) shared a video of the premier arriving in Doha for a "two-day visit", where he was greeted by the Gulf state's officials. Planning and Development Minister Ahsan Iqbal can also be seen accompanying him.
Earlier, the Foreign Office said the prime minister will hold bilateral meetings and interactions with participating leaders and heads of delegations on the sidelines of the conference.
The 5th UN Conference on LDCs (LDC5) is taking place in the Qatari capital from March 5 to 9. Afghanistan and Myan­mar, two of the poorest countries, are not present at the Doha meeting of 46 LDC members because their governments are not recognised by UN members.
Pakistan has been playing a leading role on UN platforms to amplify the collective voice of the Global South to promote sustainable development worldwide.
During 2022, in its capacity as the chair of the Group of 77 and China, Pakistan actively supported the efforts of the LDCs chair and Qatar in securing the adoption of the Doha Programme of Action for the LDCs by consensus, and its endorsement by the UN General Assembly.