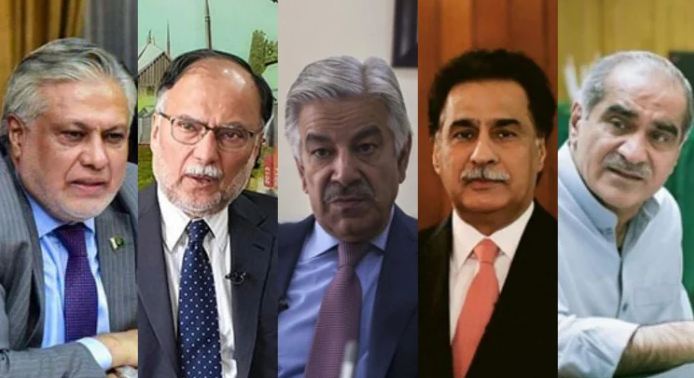 ISLAMABAD: Prime Minister Shehbaz Sharif has constituted a five-member committee of the Pakistan Muslim League Nawaz (PML-N) to hold consultations on the selection of a caretaker premier and dissolution of the National Assembly, The News reported Saturday.
Though the provincial assemblies of Sindh and Balochistan will also be dissolved along with the National Assembly next month, the panel has no members from outside Punjab.
The committee, comprising federal ministers Ishaq Dar, Ahsan Iqbal, Khawaja Saad Rafiq, Sardar Ayaz Sadiq and Khawaja Muhammad Asif, has been tasked to undertake consultations with the political parties and groups which constitute the incumbent government.
With the formation of the committee, the consultation process has gained full swing for the immediate future setup of administration in the country.
Sources within the PML-N said that the committee would report to PML-N supremo Nawaz Sharif regarding related developments and seek his guidance on sensitive matters, besides party president, PM Shehbaz Sharif.
The committee will start its work immediately. The action is believed to have been taken to ease the premier from pressure on the question of dissolution of assemblies and appointment of the caretaker prime minister.
PM Shehbaz has also advised other parties to form such committees for extensive consultations.
Sources indicated that one of the major parties of the ruling alliance was insisting on bringing a caretaker PM of its choice.
According to constitutional provisions, the PM, as Leader of the House, and the Leader of the Opposition in the National Assembly were to initiate consultations. Their failure could refer the matter to a parliamentary committee, which is supposed to be constituted by the NA speaker.
Meanwhile, the Election Commission of Pakistan will be the final authority to pick the caretaker prime minister if the parliamentary committee too fails in selecting a caretaker PM.
Interestingly, the political parties and groups outside the parliament have not been taken on board for any such consideration by the government. Pakistan Tehreek-e-Insaf (PTI) Vice Chairman leader Shah Mehmood Qureshi urged the other day that his party should also be taken into the loop for the upcoming elections and relevant arrangements, claiming to be a major stakeholder, but the government ignored his plea.
Interestingly, Leader of the Opposition in the National Assembly Raja Riaz Ahmad had planned a meeting with the premier on August 1 for initial consultations for selecting the caretaker PM.
He left Islamabad for Faisalabad on Friday and would return on Monday and he would also consult his colleagues in the lower house to form a committee for the purposes.
Sources said Riaz is keen to talk to the former speaker National Assembly Dr Fahmida Mirza for consultations, but she was not available for that purpose.