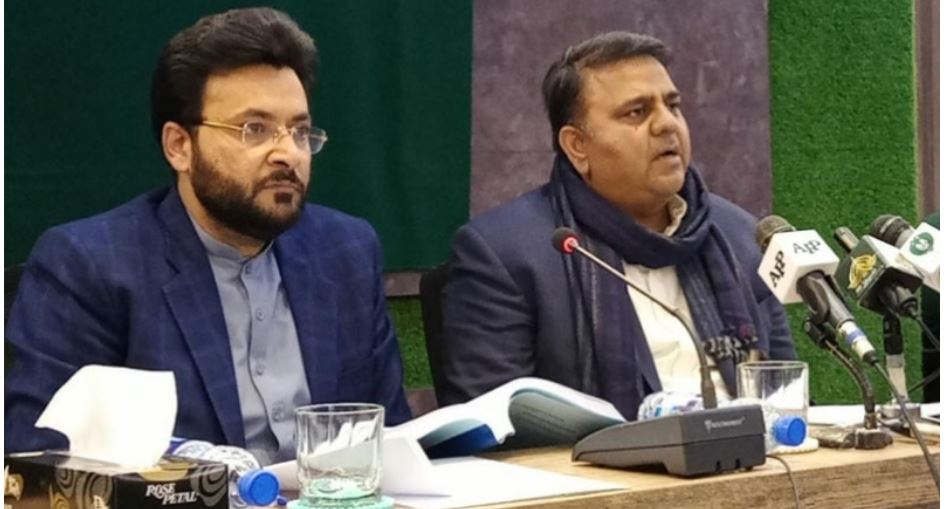 ISLAMABAD,):Minister for Information and Broadcasting Chaudhry Fawad Hussain on Thursday suggested both the Pakistan Muslim League-Nawaz (PML-N) and Pakistan Peoples Party (PPP) to replace their names with 'Sharifia' and 'Zardaria'.
The rule of both the Sharif and Zardari families had comes to an end and it seemed that future of PPP and PML-N rested with the young leaders instead of heirs of those parties, he said addressing a news conference after the meeting of Pakistan Tehreek-e-Insaf (PTI) Central Executive Committee.
Fawad said the rise of corruption and dynastic politics had been ended after Prime Minister Imran Khan came into the power.
Pakistan was on right direction under the leadership of PM Imran Khan, he said, adding it was first time in the history that a clean government had come into power .
"Nobody ever thought of a scandal-free government in Pakistan," he remarked.
About audio leaks of Maryam Nawaz, Fawad said those were real as she herself had admitted that it was her voice. Maryam should have resigned from her party position and tender apology to the people of Pakistan and media as well, he added.
The minister asked the PML-N to tender an apology in written as Pervaiz Rashid was its senior leader.
To a query, the minister said the government was ready to negotiate with the opposition on major reforms including electoral and economic ones.
He ruled out of any negotiation on the ongoing accountability drive by the government.
Divulging details of the executive committee meeting, he said the PTI had announced its advisory councils for different regions, including Punjab, Sindh and others.
"Except Balochistan and Khyber Pakhtunkhwa, the PTI has announced its executive and advisory boards in the provinces," he said. The councils had been constituted separately in Central and South Punjab, besides Sindh.
He said Minister of State for Information and Broadcasting Farrukh Habib had been appointed as the PTI's Information Secretary, and Siraj Khan as Finance Secretary.