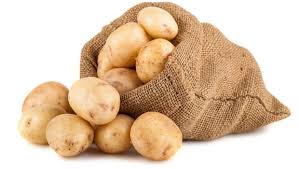 ISLAMABAD, Oct. 29 ): Potato is likely to play a bigger role in the post COVID-19 era to meet the food's requirements, said a report published by Gwadar Pro on Thursday.
The report stated that potato can not only meet people's daily nutrition needs, but also gain revenue via exports.The country's long growing seasons and high production yields of potatoes enable it to meet not only local consumption but also exports.
Most potatoes of Pakistan are consumed locally, but the export has been increasing year on year. According to Muhammed Tauha from Chase International, a Pakistani exporter of potatoes, production reached over 4.1 million tons of which 3 million tons were meant for local consumption and the rest for exports.
According to the report, in 2019, Pakistan exported potatoes to Afghanistan, United Arab Emirates, Sri Lanka, Qatar, Omen, Malaysia, Russia, and Kuwait.
Potato Growers Society Vice President Chaudhry Maqsood Ahmad Jatt claimed that the total cost of a bag of potatoes, from sowing up till its transportation to the market, stands at over Rs 2,000.
Providing a breakup of the cost, he explained that at least 13 bags of potato seed are used per acre for sowing and each bag of quality imported seed costs Rs 9,000.
A sum of Rs 60,000-70,000 per acre is spent on fertilizers, pesticides, labour and paying rent for land.
Potatoes' development potential has been recognized and a series of measures have been rolled out.
The All Pakistan Fruit and Vegetable Exporters, Importers and Merchants Association (PFVA) has presented a comprehensive road map titled "Horticulture Vision – 2030" to the Federal Government.
By effective implementation of the horticulture vision, Pakistan can easily enhance exports of fruits and vegetables to $1 billion within a period of two years, $2 billion in five years and $6 billion in a decade.
For the potato industry, Mr Jatt, who is also the chairman of the Potato Research and Development Board Punjab, recommends that the government could take at least two steps to improve the lot of potato growers and save them from financial losses.
Firstly, it should immediately arrange and promote exports through land routes to neighbouring Iran and Afghanistan up to the Central Asian States.
The other one, it should announce a subsidy for potato exporters with the condition that they will pay the growers prime rate for the produce.
As for increasing the potato output, Cheng Xiaofei, a professor of Northeast Agricultural University, China, advised to use new seed varieties, modern technologies and improve the management of cultivation.
For seed varieties, the country imports more than 7,000 metric tons of seed potatoes valuing around Euro 1 million per annum from the Netherlands. Pakistan Agricultural Research Council (PARC) recently announced to produce two million disease-resistant potato tubers using tissue culture technology.
The Chairman of PARC Dr Muhammad Azeem Khan said, "We will produce virus free potato tubers locally, which will save our precious foreign exchange."