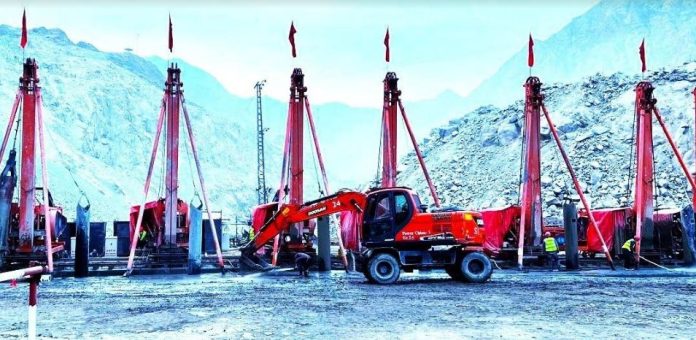 ISLAMABAD, Apr. 21 (DNA): POWERCHINA has completed Phase-I of the upstream cutoff wall of the Diamer Basha Dam Project (DBDP), which creates a favorable condition for the river diversion and closure, Gwadar Pro reported on Friday quoting a statement issued by the Chinese company.
As per details, the wall is made of plastic concrete, with an axial length of 202 meters, which had been constructed in stages due to the complex geological conditions.
"To complete the task on time, the construction team has overcome various difficulties, attaching great importance to both the process and quality," reads the statement
At the moment, construction activities are going at a rapid speed at various sites of DBDP.
They include three temporary cable bridges, D/S Cable Bridge and a permanent bridge, a diversion tunnel inlet, a diversion tunnel outlet, diversion tunnel 2, a diversion canal, an upstream cofferdam, a downstream cofferdam, left and right abutments, batching plant, power generation plant and aggregate processing plant.
DBDP is being constructed on River Indus, which is scheduled to be completed in 2028-29. Power China in a JV with FWO is constructing the MW-1 Dam of the project.
The Project will have a gross water storage capacity of 8.1 MAF to irrigate 1.23 million acres of additional land. With an installed power generation capacity of 4,500 MW, the project will provide more than 18 billion units per annum to the National Grid.