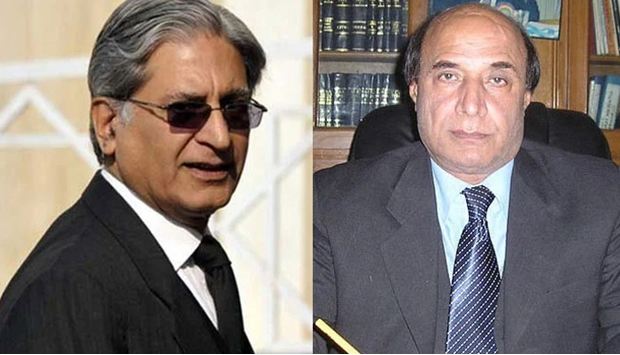 DNA
LAHORE: The Pakistan Peoples Party (PPP) on Wednesday abruptly suspended the basic membership of its senior leaders Barrister Aitzaz Ahsan and Barrister Sardar Latif Khosa reportedly for violating the party's discipline.
PPP Central Punjab chapter President Rana Farooq Saeed confirmed that the basic membership of the duo has been suspended.
It was suggested to the party leadership to suspend the basic membership of Khosa and Ahsan. "Final decision about expelling the leaders from the party is expected during the party's upcoming CEC meeting."
It is pertinent to mention here that Ahsan and Khosa are also the members of PPP's CEC.
Earlier today, the PPP inaugurated a "Wall of Shame" at the party's Central Punjab Secretariat and hanged the photos of those who betrayed the party after enjoying coveted positions and privileges. Khosa's picture was among those hung on the wall.
Moreover, Barrister Ahsan and Barrister Khosa on Tuesday called on CJP Bandial to discuss important legal matters, according to The News.
In an hour-long meeting, both the senior lawyers apprised the CJP about important constitutional petitions filed in the apex court pertaining to the fundamental rights of citizens in general and supremacy of the Constitution in particular, sources close to the development said.
It was further learnt that Barrister Ahsan informed CJP Bandial about his constitutional petition challenging the trials of civilians through military courts and urged the chief justice to fix the matter in the apex court at the earliest.
In addition to this, Pakistan Tehreek-e-Insaf (PTI) Chairman Imran Khan Monday visited the house of the PPP leader and strongly condemned the gun attack on his house.