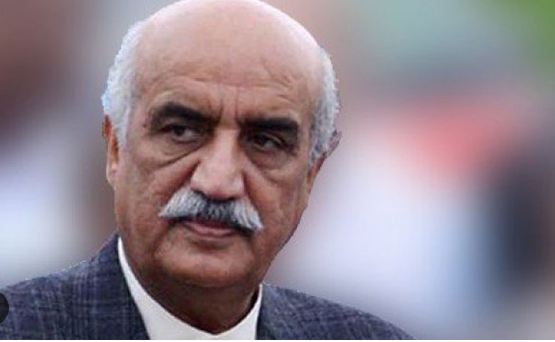 KARACHI, Aug 12 (DNA): Pakistan People Party (PPP) is unhappy over the appointment of Senator Anwarul Haq Kakar as caretaker Prime Minister.
As per details, PPP senior leader Khurshid Shah said that it would have
been better if someone was appointed as caretaker PM. He said that the
name was picked from the Senate.
Khurshid Shah said they were unaware that Senator Anwarul Haq Kakar will
be appointed as caretaker Prime Minister. PPP had finalized five names
which included Saleem Abbas, Jalil Abbas, Muhammad Malik and Afzal Khan
from KP, he added.
The PPP leader said that as a caretaker prime minister, Senator Anwarul
Haq Kakar should ensure a transparent election.
Earlier, Senator Anwarul Haq Kakar was selected as Pakistan's caretaker
prime minister, PM Shehbaz and Riaz have sent advice regarding Kakar's
appointment as the caretaker prime minister to President Alvi, the
statement added.
The premier thanked the opposition leader for his cooperation in the
consultation process for the nomination of the caretaker PM.
Shortly afterward, the president approved the summary under Article 224
A of the Constitution.
Senator Anwar ul Haq Kakar, the nominated new caretaker prime minister
of Pakistan, is a political figure from Balochistan and a member of
Balochistan Awami Party (BAP).
Kakar was elected to the Senate in 2018 and has been a very active
politician from Balochistan.
Simultaneously, he served as parliamentary leader for the Balochistan
Awami Party — formed in 2018 — within the Senate.
Anwarul Haq Kakar also worked as chairperson of the Senate Standing
Committee on Overseas Pakistanis and Human Resource Development and as a
member of the Business Advisory Committee, Finance and Revenue, Foreign
Affairs and Science and Technology. DNA
====