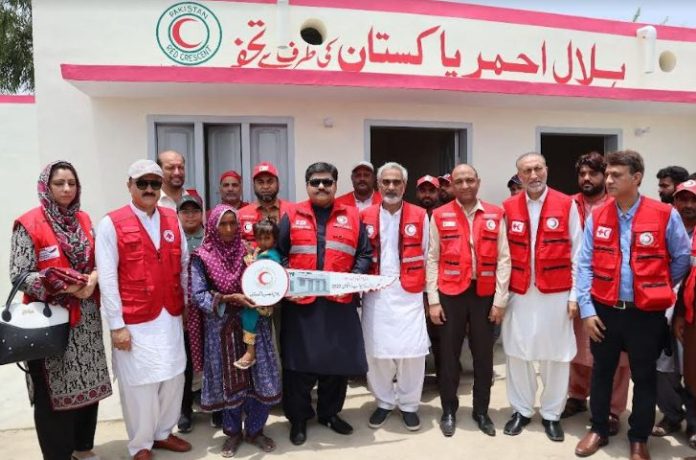 DNA
Chairman PRCS Sardar Shahid Ahmed Laghari says PRCS has aimed to build 5000 model houses across the flood-affected areas of the country with the support of Red Cross Red Crescent Movement partners and other potential donors. Each shelter house will be built in accordance to the Building Back Better concept with elevated foundation to be a safe shelter in any such future calamity; announces PKR 1.5 million support for the capacity building of the district branch Larkana
ISLAMABAD: The Pakistan Red Crescent Society (PRCS) has initiated the construction of model houses across various districts to assist families who were severely affected by last year's monsoon floods. The Red Crescent has aimed to build 5000 model houses across the flood-affected areas of the country with the support of International Federation of Red Cross and Red Crescent Societies (IFRC), Red Cross Red Crescent Movement partners and other potential donors. The foundation stone laying ceremony for the first model house took place in the village of Badal Khan Brohi in Larkana. During the ceremony, Chairman PRCS Sardar Shahid Ahmed Laghari inaugurated the model house, which was equipped with essential household and hygiene items, and handed over the key to Sitta Bibi, a widow and mother of five children who lost her home in the devastating floods.
A separate ceremony marked the inauguration of a solar-powered water treatment plants installed at three different locations including Ratodero, district Larkana, Tehsil Thull, district Jacobabad and Tehsil Qubbo Saeed Khan district Qambar Shahdadkot. Each WTP has the capacity to produce 75,000 liters of clean drinkable water per day, working 24/7 hours, which will benefit millions of people from surrounding communities. The water treatment plants are installed with the support of IFRC and Norwegian Red Cross and more will be installed in flood-affected areas of the country in coming days. On this occasion, PRCS Chairman also announced the support of PKR 1.5 million for the capacity building and smooth operations of district branch Larkana.
This event signifies a tangible step towards addressing the hardships faced by flood victims and offering them genuine support. The torrential rains in July and August of last year resulted in destructive floods that affected a significant portion of the country, causing extensive damage to properties, infrastructure, crops, orchards, and transportation systems.
Speaking on this occasion, Chairman PRCS Sardar Shahid Ahmed Laghari highlighted the urgent focus on constructing model houses for families affected by the devastating floods. He explained that PRCS is providing a new type of shelter house, consisting of two rooms, a kitchen, and a washroom, to families who lost their homes during last year's floods. These model houses, costing approximately PKR 1.5 million each, have been built using PRCS's own resources. They embody the "Building Back Better" concept, aiming to improve resilience during the recovery phase. PRCS aims to construct 5,000 model houses, with support from IFRC for 40 shelter houses. Discussions are ongoing with IFRC, movement partners, and other potential donors to secure further support. Additionally, talks have already taken place with Qatar Red Crescent to construct 2,000 model houses for families affected by the floods. Sardar Shahid Ahmed expressed his prayers for the successful assistance of all affected individuals, including flood victims, in overcoming their sorrows and challenges. He extended heartfelt gratitude to movement partners, national societies, and donors for their unwavering support.
Secretary General PRCS Muhammad Abaidullah Khan, Assistant Commissioner Rato Dero Ghous Bakash Jatoi, Chairman PRCS Larkana Branch Ahmed Mehmood Farouqi, representatives from the German Red Cross, Norwegian Red Cross and IFRC, PRCS officers, volunteers, and members of the community attended the ceremony.