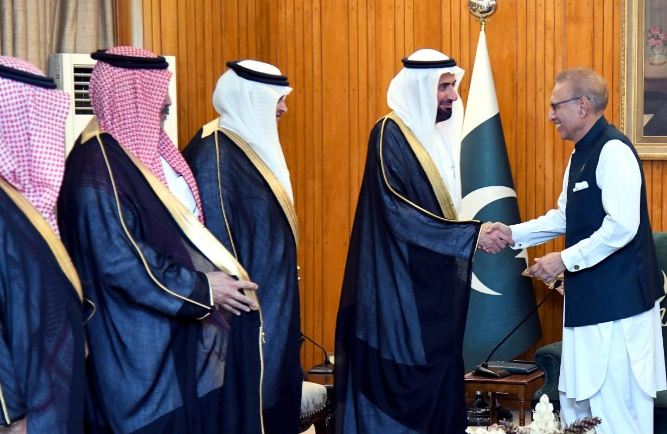 DNA
Islamabad, AUG 21: President Arif Alvi has called for further strengthening bilateral ties with the Kingdom of Saudi Arabia (KSA) in diverse fields, particularly economy, investment, and culture. He said that Pakistan highly valued its relations with KSA, which were based on common faith, shared history, and people-to-people ties.
The President made these remarks while talking to Saudi Minister for Hajj and Umrah, Dr Tawfiq bin Fawzan Al-Rabiah, who along with his delegation, called on President Dr Arif Alvi, at Aiwan-e-Sadr, today.
Welcoming the delegation, the President reiterated Pakistan's commitment to further strengthening the existing economic partnership with KSA for the mutual benefit of both the brotherly countries. He underscored the need to expand bilateral trade, adding that great opportunities existed for investment in Pakistan in different sectors such as IT, renewable energy, industrial and infrastructure development, and the hospitality sectors.
The President thanked the Government of KSA for making excellent arrangements for the Hajj this year. He hoped that the Government of KSA would expedite the purchase of Pakistan House inside Markazziah in Madina from the compensation amount of two Pakistan Houses demolished in Madina.
The President appreciated the Kingdom of Saudi Arabia (KSA) and its leadership for its steadfast support for important Muslim causes, especially the Jammu and Kashmir Dispute, Palestine, and Afghanistan through the Organization of Islamic Cooperation (OIC), and expressed the hope that it would continue to play its important role. He lauded the leadership of the Saudi Crown Prince, Mohammad bin Salman, over the normalization of relations with Iran, saying that the leadership of the Saudi Crown Prince in the Muslim World is much appreciated.
The visiting Saudi Minister said that relations between Pakistan and KSA were very strong that needed to be further enhanced for the mutual benefit of the two brotherly countries. Dr Tawfiq bin Fawzan Al-Rabiah said KSA would continue to provide good facilities to the pilgrims for Hajj and Umrah.
The President also asked the visiting dignitary to communicate his warm regards to His Majesty the King and His Royal Highness the Crown Prince/Prime Minister of KSA. He also thanked KSA for its continued support and financial assistance to Pakistan.