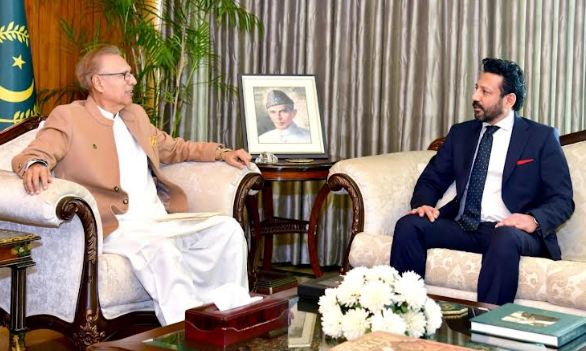 ISLAMABAD, FEB 24 /DNA/ – President Arif Alvi has called for improving Pakistan-Kazakhstan trade and economic relations, adding that both countries had great scope to expand cooperation in the areas of trade and economy. He pointed out that the potential of trade between the two brotherly countries was much greater than the current level of bilateral trade, and there was a clear need to explore new avenues to boost bilateral trade for the mutual benefit of the two countries.
The President said that the potential for enhancing trade in the fields of agriculture and agro-products needed to be materialized, adding that maximum facilitation to investors from Kazakhstan should be provided to establish their businesses, in the already established Special Economic Zones across Pakistan.
The President expressed these views while talking to Pakistan's Ambassador-designate to Kazakhstan, Mr Nauman Bashir Bhatti, who called on him, at Aiwan-e-Sadr, today.
Talking to the Ambassador, the President said that Pakistan attached great importance to its ties with Kazakhstan as both the brotherly countries shared historical and cultural bonds. He further stated that Pakistan was committed to build sustainable and result-oriented relations with the Central Asian Republic (CARs) under its "Vision Central Asia" policy, and enhancing regional connectivity with CARs constituted a pivotal part of Pakistan's policy towards the region. He also stressed the need to keep up the momentum in taking forward regional connectivity initiatives with Kazakhstan, such as Kazakhstan-Turkmenistan-Iran (KTI) railway link.
While emphasising the need to enhance people-to-people contacts with Kazakhstan, the President called for increasing cooperation in the field of higher education through joint degrees, and student and faculty exchange programmes. He said that the Virtual University of Pakistan (VU) was offering online education, which was cost-effective and students from Kazakhstan could benefit from it. He added that 8000 foreign students were already enrolled in VU's various virtual education programmes.
The President asked the Ambassador-designate to convey his gratitude to the Government and the people of Kazakhstan for their generous assistance to the flood-affected people of Pakistan.
The President asked the Ambassador to highlight the anti-Muslim and anti-minority policies of India, particularly the atrocities and human rights violations being committed by the Indian Occupation Forces against the Muslim population of Indian Illegally Occupied Jammu and Kashmir. He also asked him to work for improving the country's image.
The President congratulated Mr Nauman Bashir Bhatti over his appointment as Pakistan's Ambassador-designate to Kazakhstan and urged him to take effective steps for further improving bilateral relations between the two countries.=DNA
==========