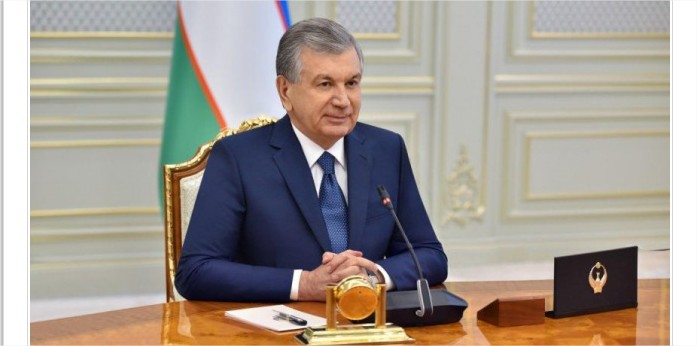 On June 11, President of the Republic of Uzbekistan Shavkat Mirziyoyev held talks with the President of the European Bank for Reconstruction and Development, Suma Chakrabarti, via videoconference.
The Head of the state noted with deep satisfaction the high level of relations and fruitful cooperation of the Republic of Uzbekistan with the European Bank for Reconstruction and Development achieved in recent years.
Thanks to the joint implementation of the provisions outlined in the Bank's Country Strategy and the roadmap, the EBRD is currently one of the key partners in promoting priority programs and projects aimed at ensuring sustainable socio-economic development in Uzbekistan.
The project portfolio is about $1.2 billion and covers all priority areas. At the same time, a third of all allocated funds are directed to support the private sector and entrepreneurship, including within the framework of efforts to minimize the negative consequences of the coronavirus pandemic in the country.
In addition, the parties are considering new project proposals worth about $1 billion.The Bank's experts also took an active part in elaboration of legislative acts and strategic initiatives in public-private partnership, developing the capital market, reforming the banking sector and other sectors of Uzbekistan's economy.The EBRD has enhanced its representative office in Tashkent and opened an office in Andijan. The other, in Urgench, is expected to start activities next year.Speaking about the practical results of interaction, the President of Uzbekistan expressed sincere gratitude to Suma Chakrabarti for his active efforts and great personal contribution to strengthening mutual trust and developing effective cooperation.In turn, head of one of the leading international financial institutions, expressing deep appreciation for organizing the meeting in this format, noted the Bank's strong commitment to the comprehensive support for the ongoing new course of reforms in Uzbekistan and regional policy in Central Asia, in particular by expanding the portfolio and financial-technical assistance.Suma Chakrabarti highly appreciated the comprehensive measures taken in the country to eliminate the consequences of the emergency in Syrdarya region and prevent the spread of the pandemic in the country.Issues of expanding the mutually beneficial cooperation were discussed in detail during the videoconference. Particular attention was paid to the EBRD's participation in transformation of state-owned enterprises and the privatization of banks, the promotion of reforms in the energy sector and in the oil and gas industry, the effective utilization of allocated loans, and enhancement of business financing, including projects in the textile industry.An agreement was reached to continue intensive contacts and exchanges, including joint preparations for the Tashkent session of the Council of Foreign Investors and the EBRD Annual Meeting 2023 in Samarkand.