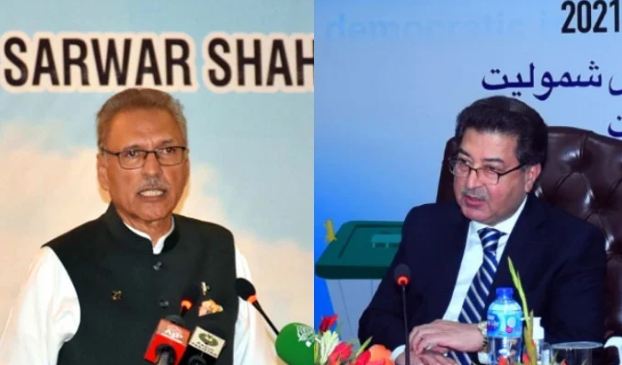 ISLAMABAD: President Arif Alvi on Wednesday invited Chief Election Commissioner (CEC) Sikander Sultan Raja to hold a meeting with him today or tomorrow to fix an "appropriate date" for the general elections.
In a letter to the Election Commission of Pakistan's (ECP) head, the president informed CEC Raja that it is liable to him to appoint a date for the elections under Article 48 (5) of the Constitution no later than 90 from the date of dissolution of the assembly.
"Foregoing in view, the chief election commissioner is invited for a meeting with the president today or tomorrow to fix an appropriate date," stated the letter.
The Shehbaz Sharif-led government dissolved the National Assembly on August 9, while Sindh and Balochistan assemblies were also prematurely dissolved to allow the electoral authority to hold elections in the country within 90 days instead of 60 days if the legislature completed its constitutional tenure.
However, the ECP may not be able to hold the polls within the stipulated time as the Council of Common Interest (CCI), days before the dissolution of the assemblies, approved the 7th Population and Housing Census 2023.
The CCI meeting chaired by then-prime minister Shehbaz Sharif approved the final results of the census reporting the country's population at 241.49 million with a growth rate of 2.55%.
The CCI approval made it constitutionally mandatory for the poll watchdog to hold elections following fresh delimitations in the light of the results of the 7th census.
According to Article 51 (5) of the Constitution, the seats of the National Assembly to each province and the federal capital shall be allocated on the basis of population in accordance with the last preceding census officially published.
Subsequently, on August 17, the ECP announced the schedule of new delimitations to be carried out as per the new census approved by the CCI.
As per the schedule, the new delimitation of constituencies nationwide will be notified in December this year.
The ECP schedule showed that fresh delimitation will take nearly four months, meaning the general elections in the country cannot be held within 90 days of the dissolution of the provincial and national assemblies.