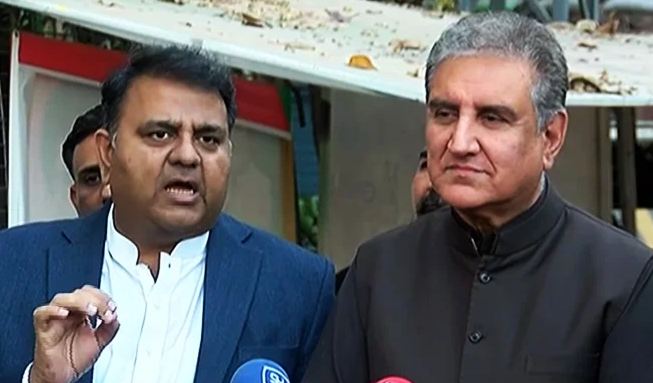 DNA
We ready to sit down for parleys but govt not sincere: Qureshi 
Govt should change constitution or hold polls in Punjab KP as per SC's order: Fawad 
ISLAMABAD: Pakistan Tehreek-e-Insaf (PTI) leadership reiterated their resolve that they were willing to sit down with the government for talks in order to develop political consensus to get the country out of the prevailing quagmire; however, they cast aspersions on ruling parties' intention in this regard, which were hell-bent on disobeying constitution to avoid the polls, which was unacceptable.
In a statement on Wednesday, PTI Vice Chairman Shah Mehmood Qureshi and PTI Senior Vice President Fawad Chaudhry stated that Shehbaz Sharif's statement clear the little doubt if any that the imported government was in no mood either to hold talks with the opposition or conduct elections in the constitutionally mandated timeframe.
Shah Mehmood Qureshi said that in the best interests of the country and people, they were willing to sit down for talks to develop political consensus within ambit of the Constitution.
However, he stated that clearly this government was not sincere, as it neither wanted to hold polls nor dialogue with the opposition to find out solution to get the country out of the imbroglio.
Qureshi reiterated: "PTI will continue to follow constitution and Supreme Court's (SC) judgement regarding holding of the elections now.
He said that the imported government neither wanted to hold polls in 14 May nor on 8 October, as there was no consensus within the widely fractured PDM.
Qureshi stated that the government even in any mood to hold talks with the PTI, as they were hell-bent on violating the constitution.
He went on to say that Ayaz Sadiq and Saad Rafique were nominated by the government itself to hold talks with the PTI but now they were saying that it was not the team tasked to hold talks, adding that they wanted to use the parliament as a bulwark and shield. He stated that the ruling parties only came to the court when there was a political deadlock.
Reacting to Shehbaz's statement, Fawad said that Shehbaz Sharif was saying that elections should be held in October but that the constitution mandated that polls were to be held within ninety days of the dissolution of the assemblies.
He advised that the cabinet should send its decision to the parliament and change the constitution with a two-thirds majority or else polls should be held in Punjab and Khyber Pakhtunkhwa (KP) as per the order of the apex court.
Fawad reminded that the constitution cannot be suspended only by statements and resolutions, adding that the attitude of disobeying the constitution by the ruling parties was unacceptable.