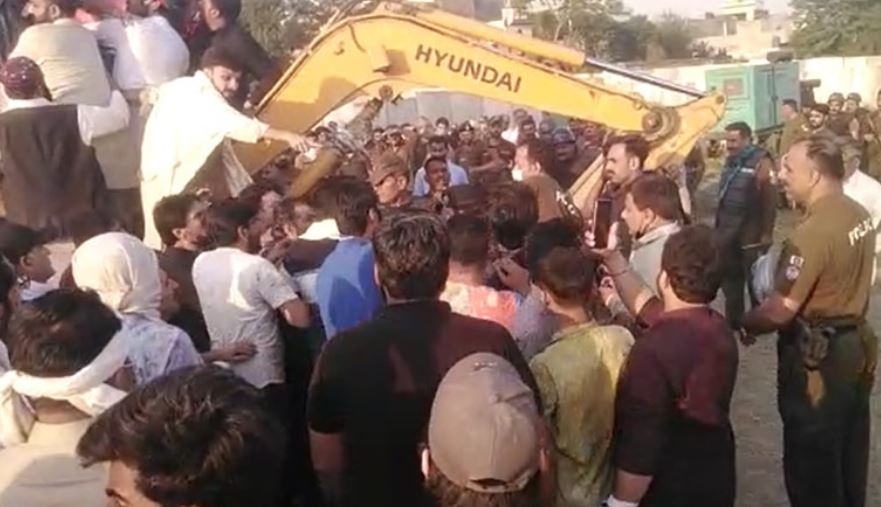 ISLAMABAD: The PTI on Saturday changed the venue of its rally in Sialkot — due to be held at 7pm today — after the local Christian community objected and refused to grant permission for using the CTI ground, which it owns.
The rally will now be held at the VIP cricket ground, some five kilometres away, the party's Punjab president Shafqat Mahmood announced in a press conference. Earlier today, authorities stopped PTI members from erecting structures in preparation for the rally at Sialkot's CTI ground, with reporting that police fired tear gas and baton-charged party activists who were resisting the move.
There were also some arrests, notably of party leader Usman Dar, though police did not immediately confirm them. The PTI, however, released a video showing Dar and others in a prison van, where he professed his loyalty for Imran and vowed such measures would not deter the party.
Fellow party leader Ali Asjad Malhi later told reporters that Dar and the other party activists had been released in Narowal.
This morning, television footage showed police personnel at the venue, as people, some with PTI flags around their necks, stood atop a crane in what appeared to be an attempt to prevent it from dismantling the structures being set up for the rally.
Clouds of tear gas could also be seen in the footage, while another scene showed police rounding up some individuals.
The rally — in which PTI Chairman Imran Khan was to deliver a speech as part of his series of jalsas culminating in the party's "Azadi March" on Islamabad — was set to be held later in the day.
Taking to Twitter later in the day, Imran said "let there be no doubt" he would be going to Sialkot today.
"What imported govt did in Sialkot against our leadership & workers is outrageous, but not unexpected. This bunch of criminals out on bail and their convict mafia boss in London have always used fascist tactics against opponents when they are in power."
He said they "use and abuse" democracy when in opposition and "totally destroy all democratic norms when in power", but the people had now risen against them.
He concluded his thread by saying his government "never stopped any of their jalsas, sit-ins and rallies "because we are committed to democracy". He added: "I will be in Sialkot today and I am calling on all our people to come out and protest in their areas/cities after Isha prayers against this fascist imported government."