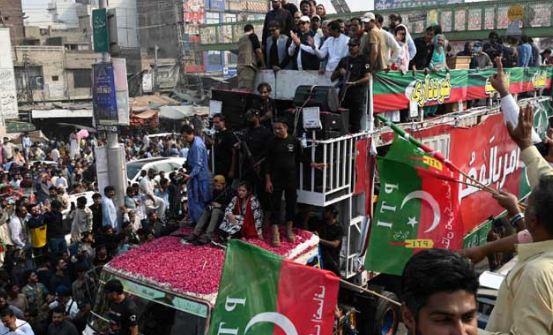 Asad urges entire nation to come out in support of top court
Ali Awan seeks SC's guarantee to move forward as PML-N, PPP can't be trusted
ISLAMABAD: /DNA/ – Pakistan Tehreek-e-Insaaf (PTI) approached Islamabad High Court (IHC) seeking permission for holding a rally today (Saturday) to express solidarity with the Supreme Court (SC) and Chief Justice of Pakistan (CJP) Umar Ata Bandial.
PTI Central Secretary General Asad Umar along with PTI Islamabad Region President Ali Nawaz Awan filed an application in the court here on Friday.
Talking to the media outside the IHC along with Ali Nawaz Awan and members of Insaf Lawyers Forum, Asad said that they moved the IHC to grant them permission for taking rally in Islamabad, as the PTI would take out rallies across the country to show solidarity with the apex court and the CJP.
Asad stated that the PTI wanted to hold a peaceful rally to show solidarity with the judiciary, but the Islamabad administration did not give them permission.
He said that they were ready to sit with local administration to address their concerns if any regarding routes or anything else.
He expressed optimism that the party would be granted permission for holding a rally in the federal capital, where the local administration imposed ban on peaceful political activities for the last six months, which was the constitutional right of all citizens.
Asad said that the SC was defending and safeguarding the constitution; hence it was incumbent upon the entire nation to come out in huge number to express solidarity with the apex court because it was not an agenda of any political party but a matter of the protection of the constitution.
He went on to say that the breaking a clause of the constitution was tantamount to abrogate the whole constitution.
Lashing out at the imported government, Asad said that around 509 PTI workers and supporters were arrested for a sole crime of their love with PTI Imran Khan.
However, he made it clear that they should understand that arrests and harassment neither dampen their courage nor it could end the movement of real independence.
Speaking on the occasion, Ali Nawaz Awan said that if the SC gave a guarantee, they were ready to move forward otherwise they could not trust on both major parties of PDM.
He said that in 2008, Nawaz Sharif went against PDM's decision to boycott the election. Similarly, he said that Asif Zardari's statement was on the record that agreement was not verses of Quran which were must to be followed.
Awan said that PTI's demand was to dissolve the assemblies before May 14, but PDM was continuously shying away from the elections.
He stated that they were making all-out efforts to avoid the polls because of the fear of Imran Khan because it was evident that whenever polls were to be held they would face humiliating defeat.
He urged that the apex court should ensure the implementation of its decision to hold Punjab polls on May 14 otherwise it would set a bad precedent.