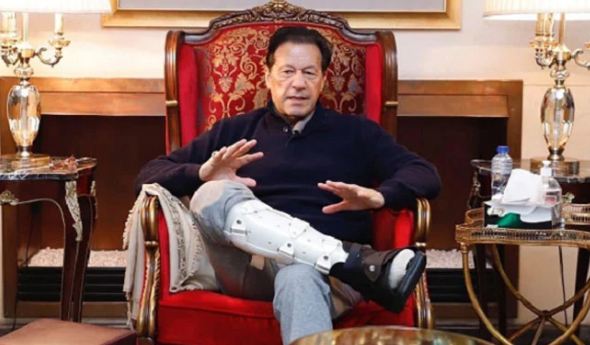 Fawad terms PML-N's nominations for caretaker CM a 'joke', 'non-serious'
Says Shahbaz cannot be allowed to sell Kashmir
LAHORE: Lashing out at the PPP for using state machineries to manipulate LG polls, Pakistan Tehreek-e-Insaf (PTI) Senior Vice President Fawad Chaudhry said that the PTI rejected the results of second phase of local body elections in Sindh, demanding an investigation into the rigging of LG polls.
Addressing a press conference here on Tuesday, Fawad said that the manner in which elections held, new precedents of rigging were set, as Interior Minister Rana Sanaullah and PPP's Sindh government tried to keep voters away from elections by issuing security and bomb blasts alerts.
He said that said Sindh government used state resources to manipulate the polls results and used several tactics to keep the voter turnout low. Fawad stated that today it became clear as to why PDM was opposing EVMs, as If EVM machines were used, the voting results would have not been delayed. He said that the LG polls was made a joke, as the results of Karachi local body elections could not come despite lapse of three days.
Reacting over the government's nominations, Fawad said that names proposed by PML-N for the caretaker chief minister were a joke and "non-serious". "It is a joke if they have proposed these names but they haven't been communicated to us," he said, adding that the names proposed by the PTI and the PML-Q were "serious".
"We think that consensus should be developed on those names," he said and added that Ahmed Nawaz Sukhera and Nasir Khosa were good citizens. Fawad noted how Malik Ahmed had stated earlier that flexibility could be demonstrated with regards to the names suggested by the PTI.
In an apparent reference to reports claiming that Khosa had refused to take up the mantle of caretaker CM, Fawad said: "I request Nasir Khosa to change his mind. This will be his contribution to Pakistan. I can imagine that it is a difficult thing." He said the country's entire bureaucracy was well aware of the reputation of the two.
He revealed that some time from now, the summary of dissolution of Khyber Pakhtunkhwa Assembly would be sent, hoping that the Governor KP would not obstruct the process of dissolution of the assembly.
Fawad Chaudhry demanded that the Chief Justice of Pakistan should take notice of the attack on Imran Khan, as people were not ready to become members of JIT. He said that the government should sit with the PTI to prepare framework for the next general elections.
About the PTI's return to the NA, he said that no decision has been taken regarding returning to the House so far. He said that Mian Aslam would head the PTI's parliamentary party in Punjab, which was earlier headed by former Punjab Chief Minister Usman Buzdar.
Fawad strongly rejected Shehbaz Sharif's statement pertaining to holding talk with Narendra Modi government sans restoring Kashmir original constitutional position.
He said that Shehbaz would not be allowed to sell Kashmir come what may. "Our stand is Modi Janta must reverse constitutional position of Kashmir to its original, only then Pakistan will negotiate begging for talks is not Pakistan policy," he added.
"We strongly reject this approach Shahbaz Sharif cannot be allowed to sell Kashmir," Fawad maintained.
He went on to say that international institutions would negotiate only with an elected government, as stabilise politics by holding national elections no short cut would serve Pakistan.
Talking about KP assembly's dissolution, Fawad stated that the dissolution of KP Assembly would be an important step towards paving the way for national elections in Pakistan. He hoped that they would be able to send packing the federal government home in the next two weeks.