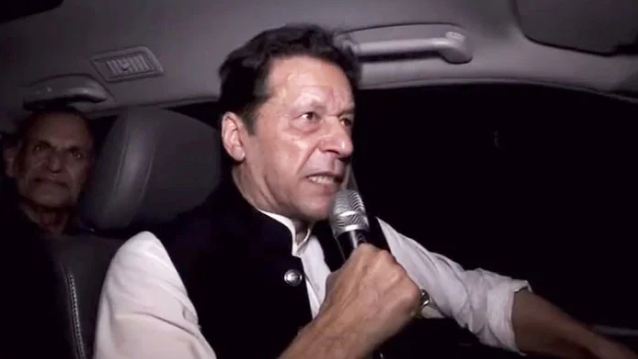 LAHORE: As part of his ongoing election campaign, Pakistan Tehreek-e-Insaf (PTI) Chairman Imran Khan has announced staging a "historic" public gathering at Minar-e-Pakistan in Lahore on Sunday (March 19).
He made the announcement while addressing participants of the election rally from inside his bullet-proof vehicle in Lahore on Monday (today). Following his address, Khan ended the rally before reaching its announced destination — Data Darbar.
Earlier today, the former prime minister — who was ousted from power via a no-confidence motion in the National Assembly last year — brought out an election rally despite security and arrest threats in the Punjab capital city.
The former ruling party had announced to kick off its election drive today after cancelling it twice in the last week following the imposition of Section 144 in the city.
It is pertinent to mention here that the PTI chairman has been seeking exemptions from court appearances on the pretext of security. An Islamabad police team, earlier today, flew by helicopter to Lahore to arrest Khan in judge threatening case.
The police will visit Zaman Park in the next 24 hours to arrest Imran Khan, sources said Monday, after his non-bailable arrest warrants were issued in a case of threatening a female judge belonging to a court in the federal capital.
A day earlier, the deposed premier got the go-ahead for the election rally following a meeting with the local administration. The city administration allowed the PTI after the party leadership's promise of adhering to the government's directives. They submitted an affidavit, assuring the city's administration of its full cooperation with them, the police and the security officials.
The former ruling party also assured the authority that it would comply with the concerned law about the usage of the sound system. Speeches against the state institutions and judiciary will not be allowed in the rally, agreed the PTI.
The PTI would be responsible if public property is damaged during the rally, read the affidavit.