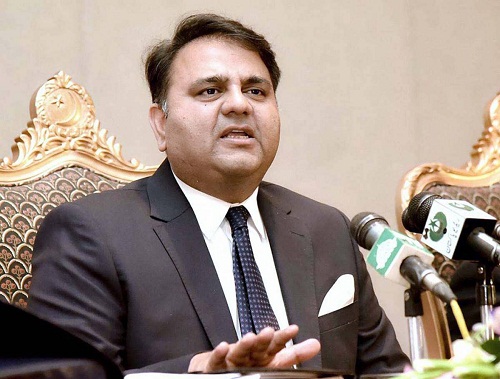 Acting as a 'crony' of govt
PTI to move SJC for CEC Sikander Raja's removal: Fawad
Welcomes world's awakening to HR violations in Pakistan
Says Bushra Bibi to 'file criminal case' against Maryam over corruption allegations
Reveals Maryam's group trying to sabotage PTI-govt talks
ISLAMABAD, MAY 2 /DNA/ – Pakistan Tehreek-e-Insaf (PTI) Senior Vice President Fawad Chaudhry said that PTI would file a reference against the Chief Election Commissioner (CEC) Sikander Sultan Raja in the Supreme Judicial Council (SJC) seeking his removal for acting as a "crony" of the ruling alliance and for being biggest obstacle in the execution of the decisions of the Supreme Court to hold elections in the country.
Addressing a press conference here on Tuesday, Fawad said that they requested the Chief Justice of Pakistan to remove the CEC from his position who became a spokesperson of a political party.
He said that unbiased and impartial election commission should be appointed so as to ensure holding free, fair and transparent elections in the country, as the way CEC was conducting himself was extremely shameful.
"On the one hand, they say there is no money for elections, but on the other, they have purchased four kanals of land for the election commission office in Sargodha for Rs. 320 million," he added.
PTI Senior Vice President stated that the CEC had appointed blue-eyed persons on important positions and did posting without advertising the posts.
Fawad said Senator Ejaz Chaudhary had filed a reference against the CEC but no action was taken. PTI is sending a new reference against Sikander Raja, who, he said, is part of the conspiracy to deprive people of their right to vote and demanded his dismissal.
Fawad said that apex court should not only give decisions but it should also ensure their execution in true sense. He made it clear that the entire nation, bar associations and top jurists were standing with the SC and the Chief Justice of Pakistan. Hence, he said that the top court's judges should give decisions without being blackmailed and according to the constitution and the law, adding that the people of the country would implement the courts' verdicts.
Fawad stated that if the people could not even protect their constitution, then we have no right to be called a nation, then our situation would be like the people of Sudan and Afghanistan.
He went on to say that the country's judiciary was currently competing with a mafia, adding that lawyers on the payroll of the government neither have any place nor should the SC should listen to them.
Lashing out at Maryam Nawaz, Fawad said that she systematically targeted the Chief Justice, Justice Mazahir Naqvi and Justice Ijaz-ul-Ahsan not because of the polls but because she wanted to build pressure to break the bench hearing the case of the NAB law amendment bill to save the skins of sharif and Zardari families.
He stated that Maryam was nervous because her NAB corruption cases would be restored automatically if NAB laws were reserved.
Fawad revealed that Bushra Bibi, wife of PTI Chairman Imran Khan, has decided to lodge a criminal case against Maryam for defamation, adding that she accused Bushra Bibi of taking bribes for getting official documents signed by the authorities during the PTI government.
However, Fawad stated: "She has never participated in any political activities she was only seen visiting panahgahs." Despite the fact that the former first lady is an apolitical person, Fawad said, Maryam continued to hurl allegations against her.
"Therefore, Bushra Bibi has decided to send a legal notice to Maryam for making baseless allegations," he said, adding that the notice will be followed by the filing of a criminal case against Maryam.
Fawad said that PTI was the only government in the history of the Pakistan which did not face any corruption case, which was unprecedented therefore, the crooked government left with no choice to implicate the PTI cabinet members in terrorism cases.
Fawad hailed US Commission for Religious Freedom, which in their report highlighted that PM Shahbaz Sharif weaponized blasphemy laws against Imran Khan and his cabinet members.
"American commission on religious freedoms report has condemned PDM government on blatant use of blasphemy laws against PTI leadership," he said, adding, "This indictment of present government shows world is now awakening to HR violations in Pakistan, a group of one hundred congressmen will jointly ask USA State Department to take notice of custodial torture and other HR violations in Pakistan."
Fawad said that EU was requested to inquire into these gruesome allegations as well, as PTI Chairman took up the issue before the German envoy who called on him.
"Missing persons issue is extremely important, as people are kidnapping even from Islamabad, Lahore, Karachi and Peshawar despite courts' orders," he added.
Fawad stated that Pervez Elahi's house was raided despite being granted him bail by the court. Similarly, he said that Ali Amin Gandapur was roaming around the country in fictitious and fabricated cases and denied to release him despite the court granted him bails in all cases.
Therefore, he suggested that the courts must implement their decisions in this regard because non-implementation of their decisions was badly affecting their prestige.
He revealed that International charter of human rights was one of the first charter to be signed by Quaid-e-Azam. "Today it's shameful that human rights are non-existent in Pakistan," he lamented.
Fawad shared detail of expenditures incurred on former prime ministers' and Presidents' security, camp offices and foreign tours.
He said that according to the detail, Shehbaz Sharif left behind all who spent whooping over Rs. 8.72 billion while Imran Khan spent the least amount as a premier as he spent mere around Rs. 17 crore on his foreign tours.
Fawad shared that Nawaz Sharif's expenditures were over Rs. 4.31 billion, Asif Ali Zardari over Rs. 3.16 billion, Shahid Khaqan Abbasi over Rs. 35 crore, Yousaf Raza Gillani's expenditures were over Rs. 24 crore, Pervez Asharif around Rs. 3 crore and Mamnoon Hussain spent Rs. 30 crore from national kitty.
He said that the government even refused to share expenditures incurred on the foreign tours of Bilawal who even visited to the country whose spelling even he did not know.
About PTI-government talks, Fawad said that Maryam group wanted to sabotage the negotiating process but he added that things would be cleared as final round of talks would be held today.