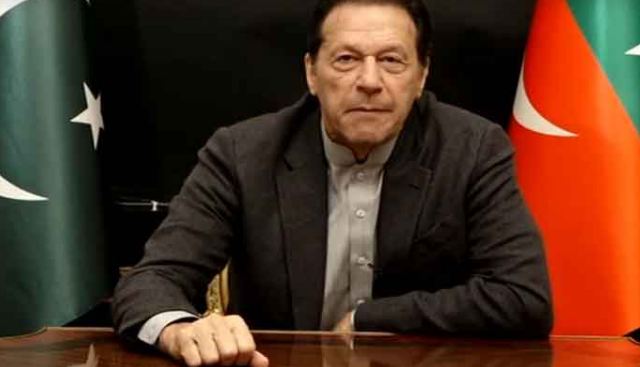 LAHORE, FEB 15 (DNA) — Former prime minister and Pakistan Tehreek-e-Insaf (PTI) Chairman Imran Khan has castigated the incumbent government for presenting 'mini-budget', saying that his party would vote against the Finance Supplementary Bill 2023 in Senate.
Speaking to foreign journalists at his residence in Lahore's Zaman Park, the former premier said that the government would put more burden on inflation-hit people of Pakistan by passing 'mini-budget' from the parliament.
In response to a question, Imran Khan said that Finance Minister Ishaq Dar met President Dr Arif Alvi to seek the latter's nod for an ordinance. "The president would not be an obstacle on the finance bill," he said, adding that his party would vote against the bill in Senate.
Referring to elections, the PTI chairman said that the incumbent government was violating the constitution as it was responsible to hold elections within 90 days of assembly dissolution. "We sacrificed our provincial governments for general elections," he said, warning of default if elections are not held on time.
"These people [present rulers] are afraid that a government with public mandate will come into power," Imran Khan said, adding that they were trying to arrest and disqualify him. He also warned to move court if the government violates constitution.
Imran Khan claimed that Pakistan Muslim League-Nawaz (PML-N) senior vice-president Maryam Nawaz and her social media team were putting pressure on the courts. "Maryam Nawaz has accused Chief Justice of Pakistan (CJP) Umar Ata Bandial of being biased," the former premier added.
The PTI chief also criticised former army chief Gen (retd) Qamar Javed Bajwa, saying that fundamental rights were violated during Bajwa's tenure.
"Bajwa had admitted that he toppled my regime," Imran Khan said, adding that the former army chief also admitted to record audios and videos. "Tapping prime minister's phone is a violation of the law", he added.
Speaking of his meeting with Bajwa, he said he only discussed about immediate elections during the meeting, wherein President Alvi was also present. "He [Bjawa] even wanted to appoint Aleem Khan as Punjab CM," he added. — DNA