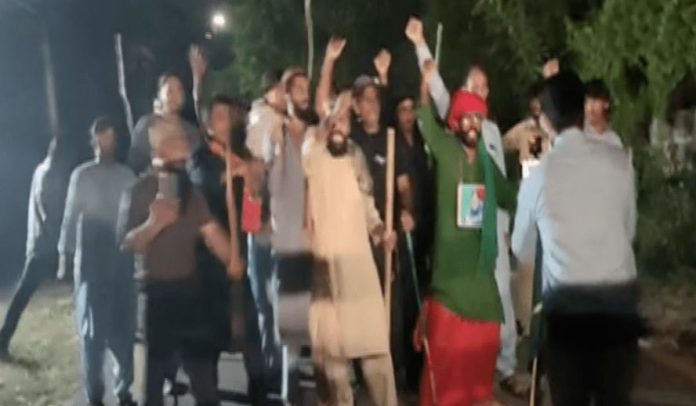 ISLAMABAD, Oct 01: PTI workers congregated at former prime minister and PTI Chairman Imran Khan's Banigala residence in Islamabad on Saturday after his arrest warrant was issued in connection with his controversial remarks against Additional District and Sessions Judge (ADSJ) Zeba Chaudhry and other officials at an August 20 public rally.
The arrest warrant dated September 30 was issued by Senior Civil Judge Rana Mujahid Rahim.
The Islamabad police subsequently issued a statement, explaining the reasons for the warrant which it said was a "legal process".
The police said that after the Islamabad High Court struck down terror charges from a case registered against Imran for his remarks, the case was transferred to a sessions court and the PTI chief had not obtained his bail from there.
The police said he had also not attended the last court hearing on the matter and the arrest warrant was thus issued to ensure his presence.
In his Aug 20 address, Imran had threatened to file cases against Islamabad's inspector general of police and deputy inspector general of police and said: "We won't spare you."
The former premier had also taken exception to ADSJ Chaudhry, who had approved Shahbaz Gill's two-day physical remand at the request of the capital police, and said she should "prepare herself as action would be taken against her".
Shortly after, a first information report (FIR) was registered at Islamabad's Margalla police station under the complaint of magistrate Ali Javed. The FIR said that at the PTI's rally, Imran had "terrorised and threatened top police officials and a respected female additional sessions judge" in his address so they could not perform their functions and abstain from pursuing any action against any PTI-related individual if required to do so.
The magistrate had argued that Imran's speech had spread fear and uncertainty among the police, judges and the nation. "Terrorism has been spread the country's peace has been harmed," he had added.
The FIR had requested that legal action be pursued against Imran and an "exemplary punishment" be meted out.
Later, Sections 186 (offence of obstructing public servant in the execution of public duty), 188 (disobedience to order duly promulgated by public servant), 504 (criminal intimidation) and 506 (punishment for criminal intimidation) of the Pakistan Penal Code were added to the FIR.
The issuance of an arrest warrant against Imran came to light shortly after PML-N Vice President Maryam Nawaz said that his residence should be raided to recover the "missing" copy of a diplomatic cypher that carries the details of the purported "foreign conspiracy" against his now fallen government.