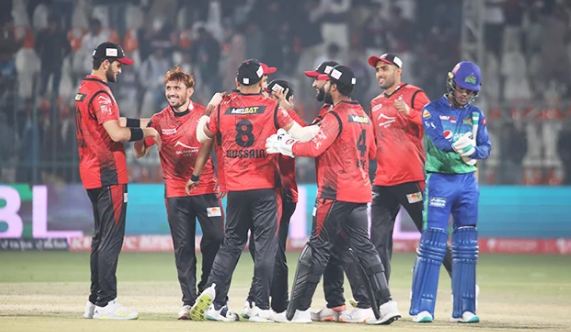 Punjab interim Chief Minister Mohsin Raza Naqvi has said that the provincial cabinet is against taking up the task of spending money for the Pakistan Super League (PSL) matches scheduled to take place in Lahore and Rawalpindi.
"Last year, Rs600 million were spent on security arrangements for PSL matches in Punjab," Naqvi told journalists during a media talk in Lahore on Friday, as speculations are rife about the rest of the matches being shifted to Karachi altogether.
"Since we are an interim setup, we don't have the authority to spend such a heavy amount. The cabinet is also against such an expenditure," the caretaker chief minister noted.
The development came after the Pakistan Cricket Board (PCB) gave an ultimatum to the Punjab government over holding the PSL season eight matches in the province.
According to sources, PCB is considering the possibility of shifting the Punjab leg of PSL 8 to Karachi after receiving a hefty bill from the provincial government.
The PCB and the PSL franchises unanimously decided Friday not to pay an additional cost of Rs450m to the Punjab government.
If the bill is not waived by tomorrow, the matches will be officially shifted to Karachi. A meeting between PCB and the Punjab government, to discuss the matter, is also scheduled to take place.
According to sources, the PCB has already started preparations for holding additional matches in Karachi. Meanwhile, the revised schedule has also been discussed with the franchises.
The deadlock could also result in white-ball matches between Pakistan and New Zealand, in April and May, being moved out of Punjab.
Schedule of matches in Lahore, Pindi
Feb 26 – Lahore Qalandars v Peshawar Zalmi, Gaddafi Stadium
Feb 27 – Lahore Qalandars v Islamabad United, Gaddafi Stadium
Mar 1 – Peshawar Zalmi v Karachi Kings, Pindi Cricket Stadium
Mar 2 – Lahore Qalandars v Quetta Gladiators, Gaddafi Stadium
Mar 3 – Islamabad United v Karachi Kings, Pindi Cricket Stadium
Mar 4 – Lahore Qalandars v Multan Sultans, Gaddafi Stadium
Mar 5 – Islamabad United v Quetta Gladiators, Pindi Cricket Stadium
Mar 6 – Quetta Gladiators v Karachi Kings, Pindi Cricket Stadium
Mar 7 – Peshawar Zalmi v Lahore Qalandars, Pindi Cricket Stadium; Islamabad United v Multan Sultans, Pindi Cricket Stadium
Mar 8 – Pakistan Women's League Exhibition Match 1, Pindi Cricket Stadium; Peshawar Zalmi v Quetta Gladiators, Pindi Cricket Stadium
Mar 9 – Islamabad United v Lahore Qalandars, Pindi Cricket Stadium
Mar 10 – Pakistan Women's League Exhibition Match 2, Pindi Cricket Stadium; Peshawar Zalmi v Multan Sultans, Pindi Cricket Stadium
Mar 11 – Pakistan Women's League Exhibition Match 3, Pindi Cricket Stadium; Quetta Gladiators v Multan Sultans, Pindi Cricket Stadium
Mar 12 – Islamabad United v Peshawar Zalmi, Pindi Cricket Stadium; Lahore Qalandars v Karachi Kings, Gaddafi Stadium
Mar 15 – Qualifier (1 v 2), Gaddafi Stadium
Mar 16 – Eliminator 1 (3 v 4), Gaddafi Stadium
Mar 17 – Eliminator 2 (loser Qualifier v winner Eliminator 1), Gaddafi Stadium
Mar 19 – Final, Gaddafi Stadium