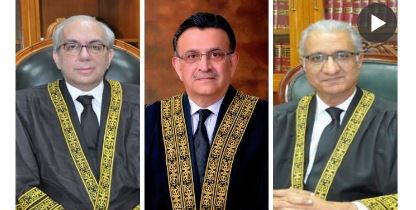 ISLAMABAD, JUL 25: Supreme Court of Pakistan (SC) on Monday rejected coalition parties' request to form a full court bench related to the recently held Punjab chief minister's re-election case.
Chief Justice of Pakistan Umar Ata Bandial said that the court needs more legal clarification regarding the formation of a full bench to issue a verdict on the case.
The CJP also said that he was unsure whether the decision on the said ruling will be made today.
Earlier in the day, the SC had reserved the verdict on the petitions filed by Chief Minister Punjab Hamza Shahbaz and other bar associations — seeking the formation of a full court for the hearing of the case — after it heard arguments from party lawyers.
However, the CJP gave a break of an hour-and-a-half on the petition of Elahi, which challenged Punjab Assembly Deputy Speaker Dost Muhammad Mazari's ruling in the CM elections.
Last week, the top court asked CM Punjab to stay "trustee" chief minister till Monday (today) and limited his powers, noting that if he appoints someone against merit, it will be considered null and void.