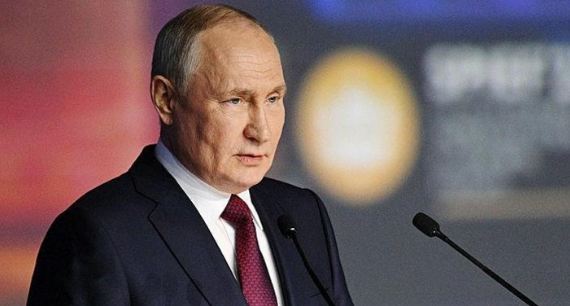 MOSCOW, JUN 17: Russian President Vladimir Putin said on Friday there was a "serious danger" that the NATO military alliance could be pulled further into the Ukraine conflict.
Putin spoke at the plenary session of Russia's flagship St Petersburg International Economic Forum.
PUTIN: OPEC+ PRODUCTION CUTS ARE NON-POLITICAL
Putin said on Friday that decisions made by the OPEC+ group to cut oil production were "depoliticized" and were not connected to what Moscow calls its "special military operation" in Ukraine.
"I have to tell you that all the decisions made within the framework of OPEC+ to reduce production are, above all, of a depoliticised nature," Putin said in comments to the St Petersburg International Economic Forum.
PUTIN: UKRAINE OFFENSIVE STANDS 'NO CHANCE'
Putin said Ukraine's counteroffensive would fail as Kyiv's troops sought to advance in several directions, including the southeastern region of Zaporizhzhia.
"I think that Ukraine's armed forces stand no chance here, as well as in other directions — I have no doubt about that," Putin told an annual economic forum in Saint Petersburg.
Putin claimed Ukraine's armed forces were suffering "heavy losses".
"In some places Ukrainian units are managing to reach the first line (of defence), in other places they are failing," he said.
"They are using the so-called strategic reserves," he added.
Putin said Ukrainian forces did not achieve their objectives in any section of the front, adding: "That's the important thing."
"RUSSIA COULD DESTROY PARTS OF CENTRAL KYIV BUT HAS CHOSEN NOT TO"
Putin said Russia's military could destroy parts of central Kyiv but had chosen not to for various reasons.
Attacks on Russia's border territories were an attempt to distract Moscow's forces from other fronts, he said.