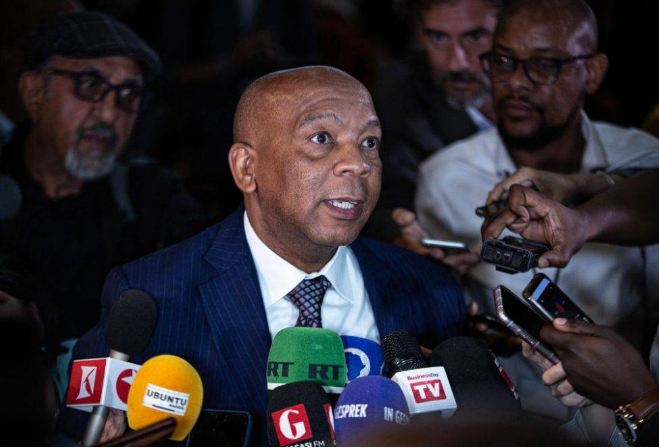 Electricity minister Kgosientsho Ramokgopa says that while increased planned maintenance and unplanned power station outages had resulted in stage six load shedding last week, Eskom should be able to maintain stage four for the coming week.
Speaking at his weekly briefing, Ramogopa said that Eskom has ramped up planned maintenance as the winter months came to an end, and that this, along with breakdowns of units at a number of power stations, had resulted in the move to stage six last week.
Ramokgopa said that planned maintenance had been deliberately reduced during the winter months because of increased demand, and that the necessary maintenance needed to be done to avoid long term grid collapse.
The electricity minister said that there was no avoiding the planned maintenance.
"There is no shortcut out of this situation," Ramokgopa said. "We must be prudent and diligent.
Units needed to be taken off the grid, serviced and returned to operation to extend their lifespan and ensure the generated power at maximum capacity.
"We are doing things the right way. The downside to this is that we are removing available capacity from the grid. If this coincides with an additional number of units failing on their own, then you are exposed," Ramokgopa said.
Ramokgopa said there would be "short term pain but long term gain" and that the government was "not reneging on our quest to be able to fix these units and to come out of load shedding."
There was a "great deal of confidence" that the improvement in generation capacity would continue and would be maintained throughout the coming week, witn stage three and state four anticipated.
Ramokgopa said that the planned return to service of the four units at the Kusile power station – and the addition of a new unit from October – was a "critical path on the way out of load shedding."
Three units are currently out, with the first expected to come on line by November and the last by December, and their return to service would give Eskom an "additional buffer" to carry out maintenance elsewhere.
Ramokgopa said they would meet with Eskom's team at Kusile on Monday to determine whether any of the units could return to service ahead of the planned dates, which would also improve the outlook going into the last quarter of the year.
The Tutuka power station, one of the worst performing, had contributed to last week's move to stage six through breakdowns, a "significant setback" for Eskom's generating capacity.
Two units at Tutuka were expected to return to service this week, with the improved capacity lowering the intensity of load shedding further, Ramokogpa said.
"We are relatively comfortable about the prospect of maintaining stage for the coming week," he said.