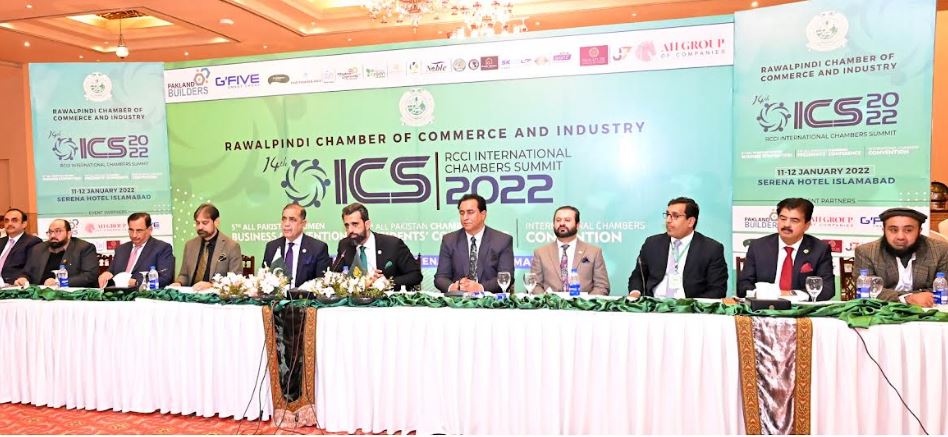 RAWALPINDI, JAN 12 /DNA/ – International Chambers Summit 2022, being organized by the Rawalpindi Chamber of Commerce and Industry (RCCI) at a local hotel in Islamabad ends on a high note.
At the conclusion of the International Chambers Summit, RCCI President Nadeem Rauf while giving a briefing said that the business community has reservations about the mini-budget. The Prime Minister of Pakistan also attended the President's Conference. He was also informed of the concerns and suggestions were made. We are grateful to Razzaq Dawood, advisor to the PM on Commerce and Investment who listened to the trader's issues in detail and took suggestions.
Group Leader Sohail Altaf, Senior Vice President Asim Malik, Vice President Talat Awan, newly elected President of Federation of Pakistan Chambers of Commerce (FPCCI) Irfan Iqbal Sheikh, former President. Anjum Nisar along with the Chambers Presidents from all over Pakistan were also present during the briefing.
President Nadeem Rauf said that growth is not possible without industrialization, industrial zones should be created in the country, export processing zones should be given incentives.
He said that the business community is on one page, the business community is running the national economy. We demand that 17% sales tax on medicines be withdrawn, 17% sales tax on infant milk be withdrawn, and the condition of identity card on purchasers be abolished. The common man is being affected by the burden of taxes.
Group leader Sohail Altaf said that inflation would come through the mini-budget, taxes on food items and medicines should not be levied.
He also informed that the Chamber has launched a campaign titled, anti-bribery and the Prime Minister also endorsed this initiative and we requested him to patronize it.
He said that during the Chambers Presidents Conference, all the presidents have endorsed it and announced their full support. He said that small shopkeepers are being harassed at the point of sale (POS), the tax rate for point of sale should be reduced.
The two-day chambers summit held at a local hotel in Islamabad was attended by more than 60 chamber presidents from across Pakistan, including nine women's chambers and nine small chamber presidents. A women's convention was also held on the sidelines of the conference. The women presidents highlighted the issues facing businesswomen and made recommendations. On the last day of the conference, the presidents of the chambers also had a meeting with the foreign ambassadors at the breakfast and suggestions were given.