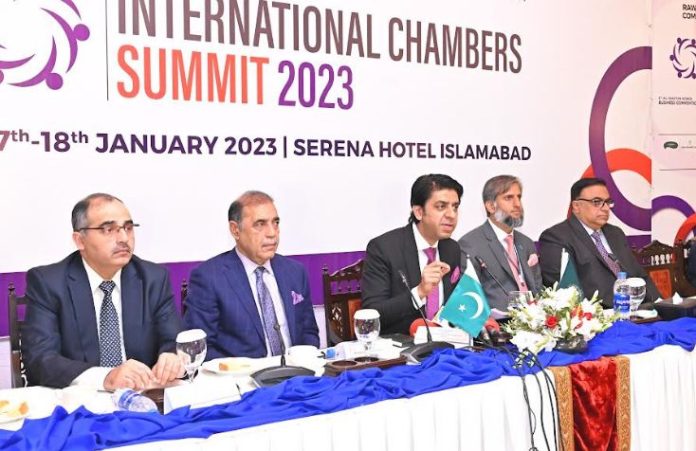 DNA
Rawalpindi: A joint press conference of the representatives of different chambers of industry and commerce of the country on the occasion of the International Chambers Summit 2023 organized by the Rawalpindi Chamber of Commerce and Industry (RCCI) issued a joint declaration covering more than 100 points suggestions and recommendations to address ailing economy and to pull country out of this financial quagmire.
The main points of the joint declaration include increasing the tax net, promoting renewable energy, facilitating the promotion of IT and online education, gender equality, separate ministry for women entrepreneurs, easy loans for skilled women, emphasis is placed on practical measures to reduce imports and increase exports and joint efforts to address environmental challenges.
RCCI President Saqib Rafiq while addressing the press conference at the end of the ICS2023 summit at a local hotel in Islamabad here on Wednesday, said that today we are going through a challenging phase where investors are going through a difficult situation, investors are not being heard by the government. The political parties should come forward and join hands and find a solution on the charter of economy. The economic condition Pakistan is going through is not the same as before.
He urged the government to provide facilities for the ease of doing business. He said that the loss-making public institutions should be privatized.
Group leader RCCI Sohail Altaf said that the business community is giving SOS call on the current economic situation of the country, and urged that the ninth IMF review should be completed.
A bad economy is not good for strong defense. Lahore Chamber President Kashif Anwar questioned whether the government and the opposition should tell what to do with the containers standing at the port?
He demanded that the political parties should come out of politics and shall care for the country, we will boycott the election in which the businessmen were not included, he added.