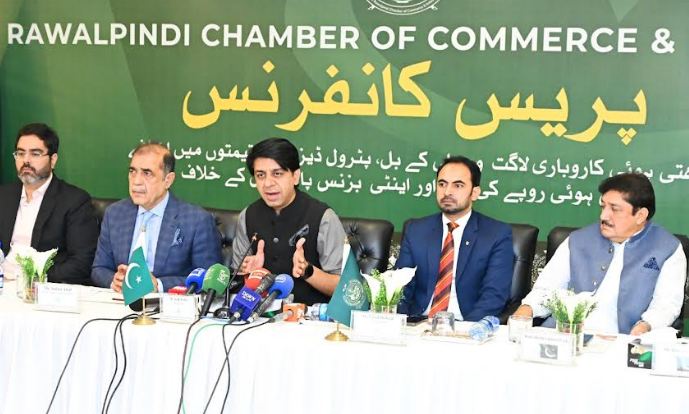 Rawalpindi, AUG 26 /DNA/ – The Rawalpindi Chamber of Commerce and Industry (RCCI) has given a deadline till August 29, to the Government to withdraw the increase in electricity price, otherwise it will take out a protest rally from the Chamber to Kachhari Chowk. Trade organizations and people will also participate in the protest rally.
Chamber President Saqib Rafiq addressing a press conference here on Saturday said that they cannot compete with the international market in the current price of electricity, it is impossible to do business in the current conditions and businesses are closing down, the government should focus on alternative sources of energy to provide cheap electricity, create a conducive investment environment for tax collection. He said that our protest will be peaceful.
He further demanded that "the rising interest rates, the uncertain situation of the US dollar, sky-rocketing fuel prices, higher gas and power tariffs, and unabated food inflation were extremely serious issues that needed to be addressed by the government on a priority basis".
Group leader Sohail Altaf said that since the caretaker government dollar has gone out of control.
The caretaker finance minister Shamshad Akhtar should hold a meeting with the stakeholders to consult with the stakeholders. He demanded that the institutions which are getting free electricity and petrol should be ended.
Shahid Ghafoor Pracha, Sheikh Hafeez, Arshad Awan, Taj Abbasi, Zafar Qadri, Raja Jawad, Poultry Association representative Dr. Hasan Sarosh also expressed their views on this occasion. Senior Vice President Muhammad Hamza Sarosh, Vice President Faisal Shahzad, former presidents, executive committee members, representatives from different cities and associations and chamber members were also present on the occasion.