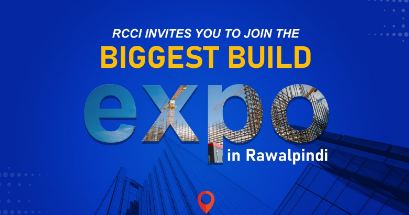 Rawalpindi, MAY 1 /DNA/ – There is currently a shortage of more than ten million houses in Pakistan. Rising inflation, expensive building materials and transportation costs have affected the construction sector.  The president of the Rawalpindi Chamber of Commerce and Industry (RCCI) Saqib Rafiq in a statement has said that building a home or office by saving energy and construction costs, now has become inevitable. Keeping in view the challenges faced by the construction industry, the Rawalpindi Chamber of Commerce and Industry (RCCI) is going to organize the third BUILD 2023 Expo in the third week of May.
The Build Expo 2023 will be held on May 19th-21st 2023 at Topi Rakh Complex, Rawalpindi.
He further informed that the exhibition will have stalls based on various products including Property, Builders Developers, Construction and allied industry related materials, ceramics, tiles, electric cables, interior, paint and hardware.
He said that more than 40 allied industries are associated with the construction sector. Increasing employment opportunities will reduce unemployment in the country, he further added. Preparations for the expo are going on and stalls are being booked, there will also be a musical evening and a food court on the occasion of the Build Expo 2023, he added.
A conference with panel discussions will also be held on the sidelines of the Expo to highlight the barriers to innovation and development in the industry.