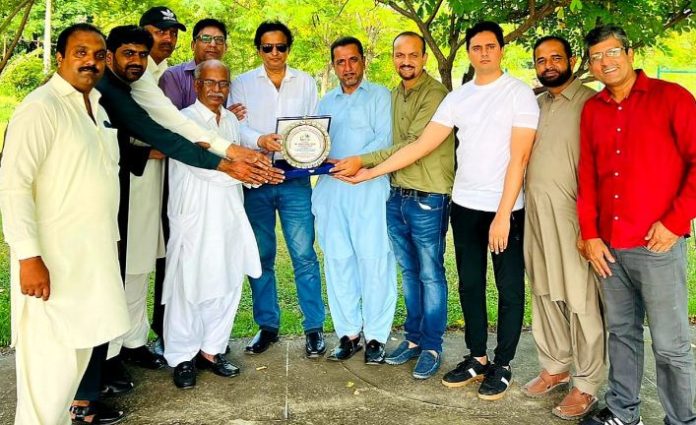 By our correspondent
ISLAMABAD: Senior journalist Afzal Javed was elected President of Rawalpindi Islamabad Sports Journalists Association (RISJA-registered) while Nasir Abbas Naqvi and Sohail Raja were elected general secretary and finance secretary respectively for the next term during electoral meeting held the other day. All office-bearers were elected unopposed to their respective offices.
The electoral general council meeting of RISJA was held here at Islamabad Tennis Complex, under the supervision of chairman Election Committee Faheem Anwar Khan. The Council paid rich tributes to Abdul Mohi Shah and passed a unanimous resolution appreciating his services for welfare of the association members and conducting award ceremonies for members who were part of the association during January 2022 elections. The house also approved a membership list and procedure to attain RISJA membership in future.
The other newly elected office bearers are Arslan Shirazi (PTV) Senior Vice President, Gabrial De Souza (The News) and Hafiz Ubaid ur Rehman (NNI) Vice Presidents, Nasir Abbas Naqvi (Ausaf) General Secretary, Khurram Shahzad (Daily Muslman) and Asim Nawaz Abbasi (The Dayspring) Joint Secretaries while Sohail Raja (Pakistan) elected as Treasurer of new body.
During meeting RISJA (R) executive body also formed headed by senior sports journalist Faheem Anwar Khan while Shahryar Khan (SUNO TV), Shahzad Ali (SamaaTV), Zeeshan Qayyum(PTV), Rehan Shaikh (AAJ) and Qaisar Shahzad (INP) will be part of the executive body of the association.
Addressing the meeting, former President National Press Club Shahryar Khan and others appreciated the services and efforts of Abdul Mohi Shah for conducting the RISJA award ceremony. Abdul Mohi Shah also expressed the hope that the new body will play a key role for the welfare of the association. Mohi Shah also donated his individual award gift back to RISJA funds.
The newly elected president of RISJA, Afzal Javed and Secretary Nasir Naqvi, thanked all the members for showing full confidence and said that the association will organize regular activities while RISJA will continue to play its positive role for the development and promotion of sports and welfare of sports journalists.
The newly elected body will raise its voice at every forum for the rights of true professional sports journalists and will discourage membership of those who are working as representatives of sports organisations.
On the occasion, the newly elected body also presented a commemorative shield to Abdul Mohi Shah for his services, contribution and efforts to ensure RISJA awards. It is pertinent to mention that RISJA is the only registered body in Rawalpindi and Islamabad which was established in 1986.