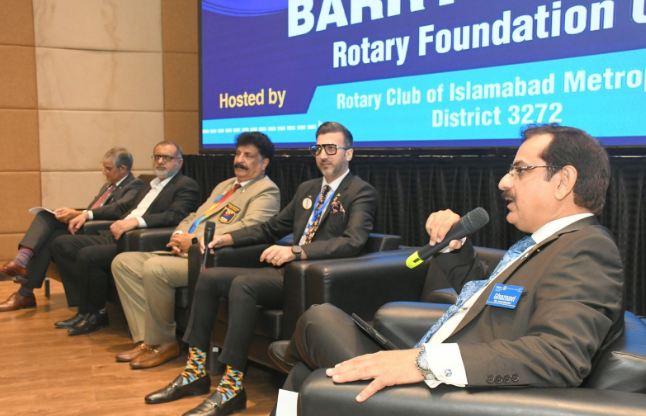 ISLAMABAD, 11 Sept /DNA/ – Rotary Pakistan, a leading non-profit organization dedicated to community service, is proud to announce its collaboration with corporate and social sector organizations for the Smart Village Project, aimed at bringing sustainable development to communities across Pakistan.
The Rotary Foundation Seminar, was held at the Islamabad Chamber of Commerce and Industries, graced by the presence of esteemed guests, including Former Rotary International President Barry Ressin, Chair of the Trustees of the Rotary Foundation for 2023-2024, Rotary International Director Faiz Kidwai, and Aziz Memon, Trustee of the Rotary Foundation. The event also witnessed the participation of a significant number of Rotarians, civil society business community and LOIN members.
The Smart Village Project, conceptualized by RID Faiz Kidwai, has been designed to address the pressing issues of climate hazards, reduce carbon emissions, and respond to recent devastating floods that have affected communities across Pakistan. This visionary initiative aims to establish twenty smart villages, comprising 2000 shelters, across the nation, with two villages already operational.
To ensure the realization and sustainability of this groundbreaking project, Rotary Pakistan has forged strategic partnerships with prominent corporate and social sector organizations. Vice President of the Islamabad Chamber of Commerce and Industries has officially committed to partnering with Rotary Pakistan on the Smart Village Project, demonstrating their dedication to community development. Lion District Fezan Majid Kapur has also extended his support, solidifying the collaboration between Rotary and Lion on this vital initiative. Dr. Fasial Mushtaq, CEO of Roots Millennium Education, has pledged his unwavering support to Rotary Pakistan in its mission to serve communities in need.
During the Rotary Foundation Seminar, an inspiring amount of over $125,000 USD was pledged for Rotary Fiundation for the projects in Pakistan, underlining the commitment of Rotarian to this transformative endeavor.
Rotary Pakistan's CSR-Partnerships team has actively engaged with various corporate sector organizations to foster partnerships and leverage CSR funds effectively. These collaborations aim to drive sustainable community service projects that will create a significant impact on disadvantaged populations and contribute to safeguarding the environment against climate hazards.
Faiz Kidwai Rotary International Director , stated, "This collaboration marks a significant milestone in Rotary Pakistan's commitment to community service and sustainable development. We are immensely grateful for the support and enthusiasm of our partners, and together, we will work tirelessly to create a positive and lasting impact on the lives of those in need."
Rotary Pakistan remains dedicated to its mission of "Service Above Self" and looks forward to fostering lasting partnerships that will propel the Smart Village Project towards success and make a meaningful difference in communities across Pakistan.