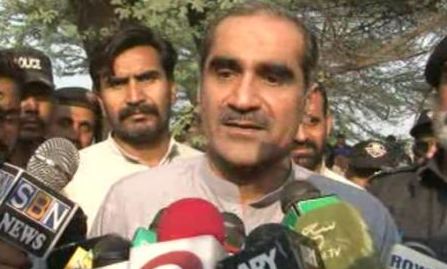 LAHORE: Federal Minister for Railways and Aviation Khawaja Saad Rafique has raised suspicions of sabotage as the potential cause behind the train accident in Nawabshah, ARY News reported on Sunday.
"It was either a mechanical fault or it was developed," he said on the possible causes.
Speaking to media in Lahore, the minister said that reports suggested that 15 people had died and several were injured in Hazara Express train accident.
Unmute
Rafique said that the train was travelling at a reasonable speed, which initial investigations showed. He said that officials had reached the scene and an emergency had been imposed in hospitals in Sukkur and Nawabshah.
Death toll jumps to 25
At least 25 people were dead and over 100 sustained injuries when 10 bogies of Hazara Express traveling from Karachi to Rawalpindi derailed near Nawab Shah, said SSP Sanghar.
Railway officials reported that the tragic incident occurred near Saharai Railway Station, located between Shahzadpur and Nawabshah when the Hazara Express was en route from Karachi.
The derailment resulted in 10 bogies veering off the tracks, leading to chaos and injuries among the passengers on board.
However, the traffic on the up track has been suspended.
The injured and bodies were transferred to People's Medical Hospital in Nawabshah.
DC Nawabshah, Shehryar Gul Memon said an emergency has been declared in nearby hospitals while the rescue operation is also underway. He further said ambulances and the rescue staff have been sent to the spot to gear up for relief operation.
The cause of the derailment is not yet known as officials reached the scene to probe the incident.
Meanwhile, on the directions of DG Rangers Sindh, Major General Azhar Waqas, paramilitary forces have left for the spot to assist the civil administration in the rescue and relief operation.