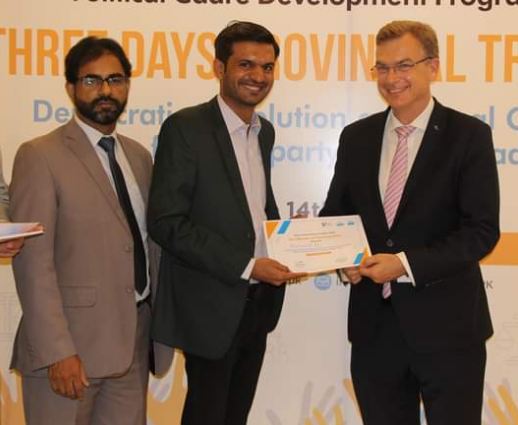 DNA
Lahore, JUL 13: In a momentous event held at the Avari Express Hotel in Lahore, Mr. Sajid Ali, the representative of the Pakistan Peoples Party and one of the country's top five young political leaders, was honored with a distinguished certificate. The esteemed award was presented by Mr. Andreas Hergenrother, the Country Representative of Hanns Seidel Foundation Pakistan, and Shaoor Foundation Pakistan.
The ceremony, attended by prominent politicians, intellectuals, and social activists, showcased the recognition and appreciation of Mr. Sajid Ali's notable contributions to politics and social development. As the sole recipient from all over Pakistan, his achievements have solidified his position as a respected and influential figure in the political landscape of the country.
The Hanns Seidel Foundation, a renowned German political foundation, aims to promote democracy, good governance, and sustainable economic development. Their collaboration with the Shaoor Foundation, a Pakistani non-profit organization dedicated to education and civic engagement, reflects a shared commitment to fostering positive change in Pakistan.
The certificate presented to Mr. Sajid Ali symbolizes the acknowledgment of his dedication and tireless efforts in advancing the principles of democracy, social justice, and public welfare. It serves as a testament to his outstanding leadership and unwavering commitment to the well-being of the Pakistani people.
During his acceptance speech, Mr. Sajid Ali expressed his gratitude to both foundations for recognizing his endeavors and emphasized the importance of collaboration and partnership in driving positive societal change. He reiterated his commitment to serving the nation and vowed to continue working towards a prosperous and equitable Pakistan.
Mr. Andreas Hergenrother, in his address, praised Mr. Sajid Ali for his exemplary leadership and emphasized the significance of nurturing young political leaders who possess a deep understanding of the challenges faced by the country. He also commended the efforts of both foundations in promoting political awareness, education, and fostering sustainable development in Pakistan.
The event provided a platform for like-minded individuals and organizations to come together and discuss pressing issues, exchange ideas, and explore potential avenues for cooperation. The exchange of diverse perspectives and expertise further emphasized the need for collaboration and collective action to overcome the complex challenges facing Pakistan.
As Mr. Sajid Ali received the certificate amidst thunderous applause and cheers, it was evident that his contributions had not only been acknowledged by esteemed organizations but also resonated deeply with the public. This recognition serves as a reminder of the vital role that young leaders play in shaping the future of the nation.
With the honor bestowed upon him by the Hanns Seidel Foundation and Shaoor Foundation, Mr. Sajid Ali's political journey takes a significant leap forward. As he continues to champion the causes he holds dear, his dedication and passion will undoubtedly inspire other young leaders to work towards a brighter and more prosperous Pakistan.