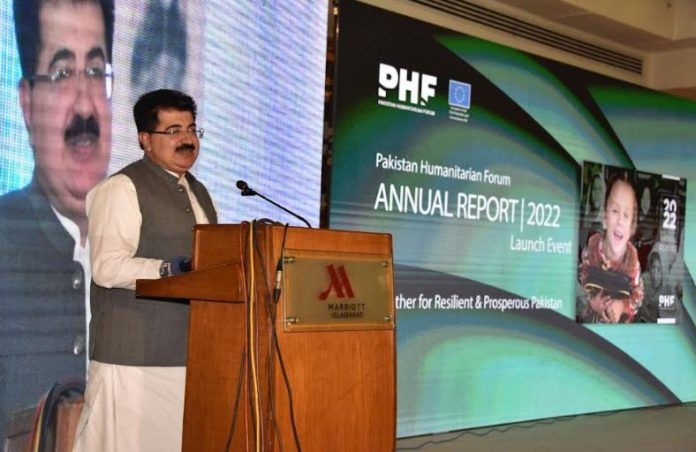 DNA
Islamabad, 19 /DNA/ – Chairman Senate, Muhammad Sadiq Sanjrani, graced the "Pakistan Humanitarian Forum's Annual Report 2022 Launch Event" at Marriot Hotel Islamabad as the Chief Guest on Wednesday.
During his address at the ceremony, Chairman Senate Muhammad Sadiq Sanjrani extended his heartfelt appreciation for the remarkable efforts of the Pakistan Humanitarian Forum (PHF) in organizing such an important event. He emphasized the pivotal role of humanitarian and development works in Pakistan, acknowledging PHF's exceptional contributions to providing relief and rehabilitation to those affected, especially after the devastating floods in Pakistan.
Chairman Senate also praised PHF for its efforts in creating a platform that enables various organizations to come together and serve the people of Pakistan. He assured PHF of the Senate of Pakistan's cooperation, ensuring a strong partnership between PHF and the Climate Change Parliamentary Caucus. In line with this commitment, he pledged that two representatives from PHF will be provided representation in the Caucus to enhance coordination between the two bodies.
Furthermore, Chairman Senate stressed the need to raise awareness among the public to protect the future of our children. He pledged to provide PHF and similar organizations with appropriate platforms to support their initiatives effectively.
Recognizing the significance of sustainable development in Balochistan, Chairman Senate proposed organizing a donor conference to channel resources towards the development of the province.
Highlighting the critical role of the private sector, Chairman Senate called for their support in generating employment opportunities and establishing institutions to provide technical training for the people.
In conclusion, Chairman Senate extended his congratulations to PHF on the successful release of the annual report and reaffirmed the Senate's commitment to working closely with PHF in pursuit of their noble humanitarian objectives.