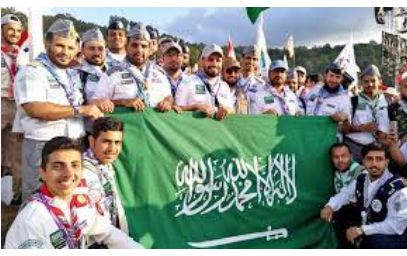 Riyadh, Aug 13 (SPA/APP): The Saudi Arabian Scouts Association ended its participation in the 25th World Scout Jamboree, which was hosted by the Republic of Korea between August 1 and 12 in Saemangeum City.
South Korean Prime Minister Han Duck-soo and over 40,000 participants, guests and organizers attended the closing ceremony, held at the Seoul World Cup Stadium, during which a visual presentation of the jamboree was presented, and a ceremony to deliver the World Scout Flag to a group of scouts from Poland, which will host the 26 World Scout Jamboree in 2027, was held.
Secretary-General of the World Organization of the Scout Movement Ahmad Al-Hendawi said that the Korean scouting gathering was a testament to the world's cooperation in scouting.
The South Korean prime minister thanked the participants and wished the scouts further progress.
The Kingdom's boy scouts and girl guides, aged between 14 and 17, participated in various camp events, including adventure programs, educational activities and exploration of South Korea's cultural heritage.
Saudi travelers and scouting leaders also participated in the international service team and the Development Village with many initiatives, such as promoting the Kingdom through several programs, including hospitality in the traditional Arabian tent, highlighting the role of Saudi scouts in achieving sustainable development goals, the Saudi scout exhibition, and showcasing many arts and popular performances from the Kingdom.